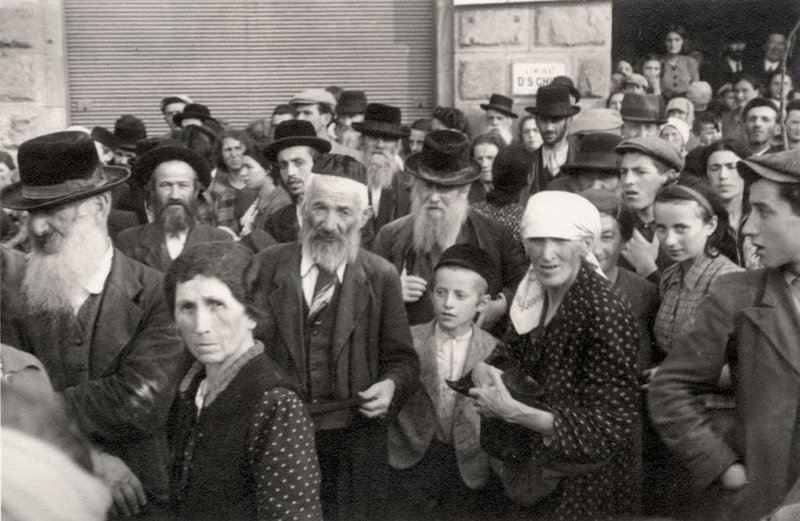 1) Jews were outsiders.
They (pretty much) originated as a nomadic people. They kept wandering around to places that other people already called home, places like Egypt and Babylon. We'll call these non-nomadic people "landed people." Every time Jews showed up to a new town, village, or city, everyone already there saw them as outsiders that wanted to profit from what the "hard-working" landed people had made. "The Jews wanted to take their jobs," as the landed people saw it.
2) Jews kept to themselves and kept their own traditions, even when living inside of landed peoples' cities.
From their beginning, people of the Jewish faith were a "devoutly insular group." They did not typically marry "outsiders," nor did they stay anywhere for too long, and they commonly didn't invite any outsiders in to participate in their "Jewish games" and other fun times. This made landed people feel like the Jews thought they (the Jews) were better than them (whichever landed people were currently getting pissed off at them, be it the Egyptians, the Babylonians, etc). So, during a time when a lot of areas were becoming more ethnically diverse (from wars, political maneuvering, etc.), Jews remained mostly ethnically insular. You can find this with the first few generations of almost any immigrant population in the world. The Jews kept it going strong for about 2,500 years though.
3) Jews only had one God, whereas a lot of people had many.
People hate it when you don't believe the dumb shit they believe.
4) Roman authorities told Christians that Jews were to blame for Jesus' death.
After the Roman Catholic Church came to power under the Roman Emperor Constantine, they attempted to solidify power among their ruled. Their ruled being Christians (which "all" the Romans were supposed to be now). Other religions were seen as a threat to their power. Since Jesus was actually Jewish himself, these usurpers quickly needed to find a way to dissuade converts to Christianity from being sympathetic to Jewish people and their faith. "I know! Let's write them in as the people that killed Jesus. Somehow. Even though it doesn't really make a lot of sense."
5) Jews could loan out money and charge interest. Christians couldn't.
During the rise of Christianity in Rome and then throughout almost the entirety of Europe during the Middle Ages, it was forbidden for Christians to practice "usury." Meaning, a Christian was forbidden to "loan" money to others, and then charge them interest on the loan. You know, that thing that every single bank, credit card company, and Wall Street businessperson does all the time now.
http://en.wikipedia.org/wiki/Usury
However, Jews were NOT required to obey this mandate. So, a lot of Jewish people ended up getting VERY wealthy by cornering the market on banking. Even to this day, a lot people believe there is some kind of global conspiracy that the Jews are out to steal everyone's money.
So, there you have it. Jews were outsiders that kept to themselves that people in power used as scapegoats because they were the ancient world's equivalent of zombies. It was ethically okay to hate them because they had only one god that they totally believed was better than all of your gods and could beat them up in a fight. And then, because of a loophole in the dominate religion's fiscal doctrine, Jews got really wealthy while simultaneously making others in debt to them.
People fucking hate being in debt to others.