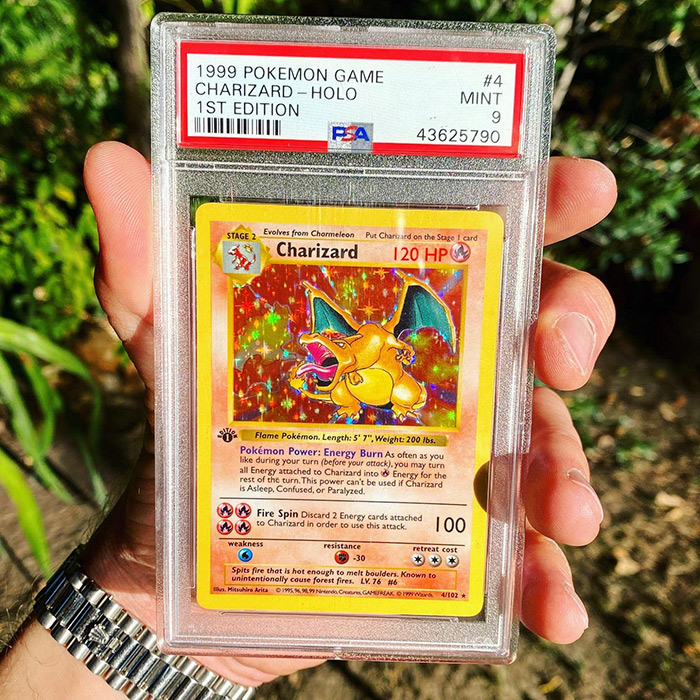 Logan Paul's Charizard Card
On the night of the biggest boxing fight of his life, YouTube star Logan Paul found a way to showcase his prized Charizard Pokémon card to fans.
Prior to his walkout, Logan Paul was shown on screen in his locker room wearing a diamond-plated BGS 10 Charizard around his neck on a diamond chain. He wore this necklace for the duration of his walk out and in the ring until the bout began.
The first edition, Beckett-graded 10 (pristine) Charizard is said to be worth hundreds of thousands of dollars — and one of three of its kind.
Paul said he spent $150,000 on a Pokémon card last year and the value of the Pokémon cards has risen.
"It's a BGS 10 Charizard, first edition Charizard. It's one of three in the world. It is my prized possession," Paul said. "Ever since I got this graded at a ten, the momentum in my life has been crazy. It's my good luck charm."
Other notable cards are a 1st Edition shadowless Alakazam, 1st Edition Gyrados signed by artist Mitsuhiro Arita, and a 1st Edition Pikachu with red cheeks, which was only available in early sets before his cheeks were changed to yellow.