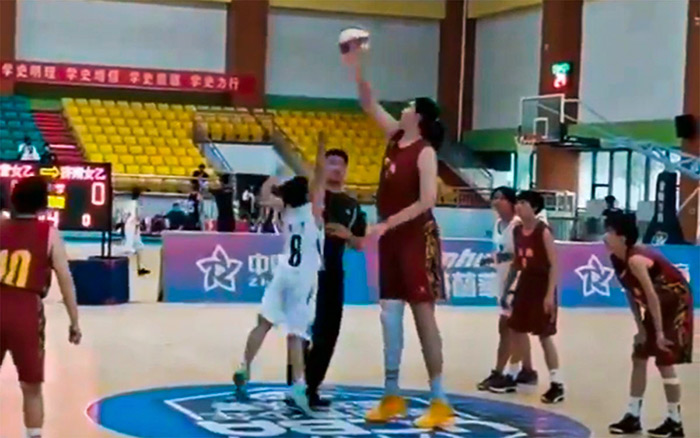 Zhang Ziyu, a 14-year-old basketball player from Shandong, China, has been getting a lot of attention because of her unusual height, 7ft 5in, and getting compared to Chinese basketball legend Yao Ming, who is 7ft 6in.
In photos and videos that have been making the rounds online for the past week, Zhang Ziyu can be seen towering over both teammates and opponents during an under-15s tournament in Jingzhou, where she just happened to score 42 points in a game, as well as 25 rebounds and 6 blocks.
In the highlights, Ziyu towers over her helpless opponents, easily securing uncontested rebounds and scoring wide-open layups.
https://youtu.be/8JIj-LvNBsk
Chinese media reported that Zhang's parents were both professional basketball players, but still, her stature is surprising, especially considering her age.  She is already taller than both her father (6ft 11in) and her mother (6ft 6in).
According to the Global Times newspaper, Zhang Ziyu was already 5-foot-2 in the first grade and 6-foot-9 in sixth grade.
If she were in the WNBA right now, she would be the tallest player in the league. Britney Griner is currently the tallest player in the WNBA at 6-foot-9. The tallest player in WNBA history, 7-foot-2 Margo Dydek, played from 1998 to 2008.