Boys from the Pennsylvania Coal Co, 1912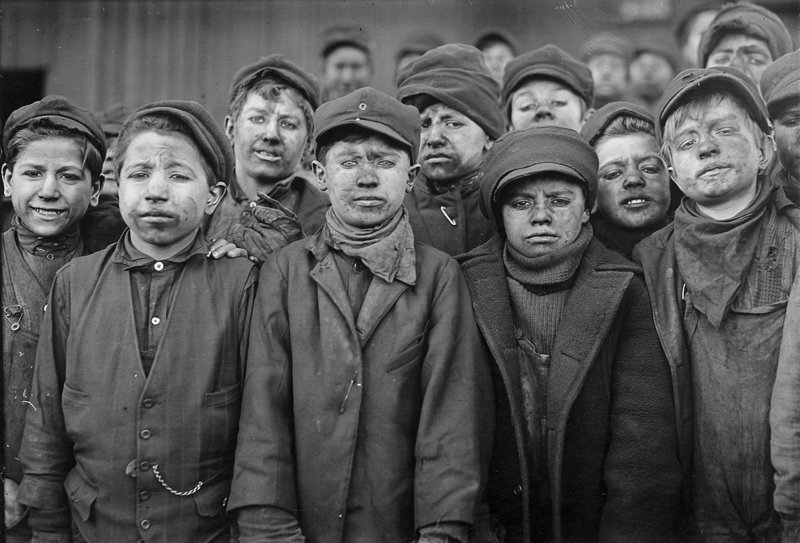 7-year-old year old Ferris, a small newsboy, or "newsie", who did not know enough to make change. Photographed in Mobile, Alabama, in October of 1914. The newspapers he holds are copies of The Mobile Item, with the headline "Germans Are Driven Out Of Ostend," describing the end of the Siege of Antwerp in World War I.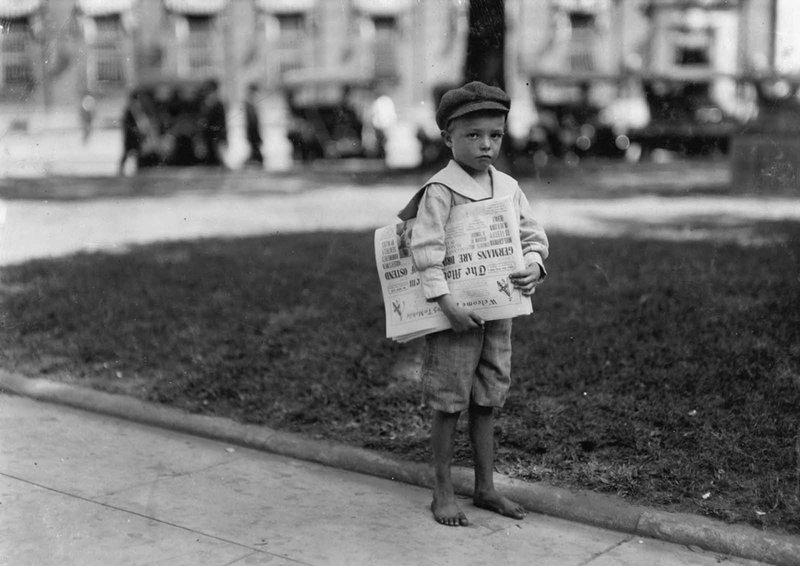 Textile mill workers in Newberry, South Carolina, in December of 1908.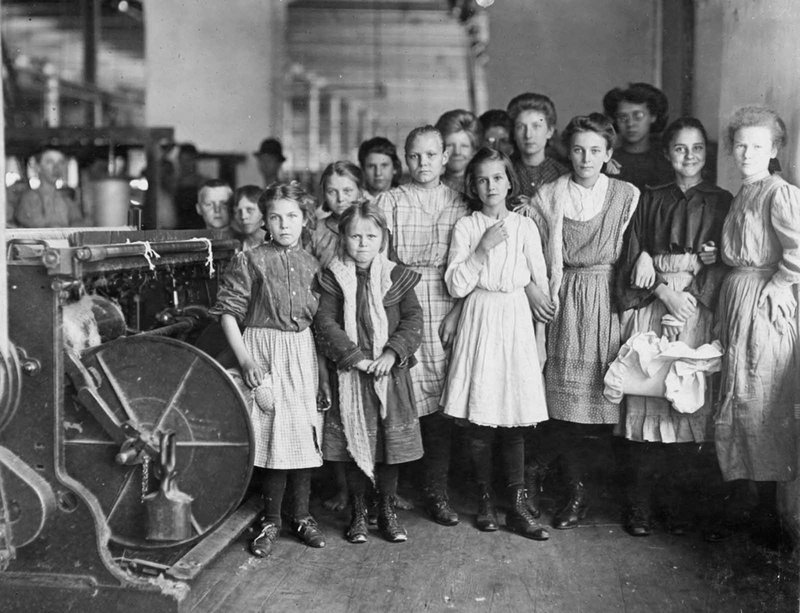 Callie Campbell, 11 years old, picks 75 to 125 pounds of cotton a day, and totes 50 pounds of it when sack gets full. "No, I don't like it very much." Photographed in Potawotamie County, Oklahoma. on October 16, 1916.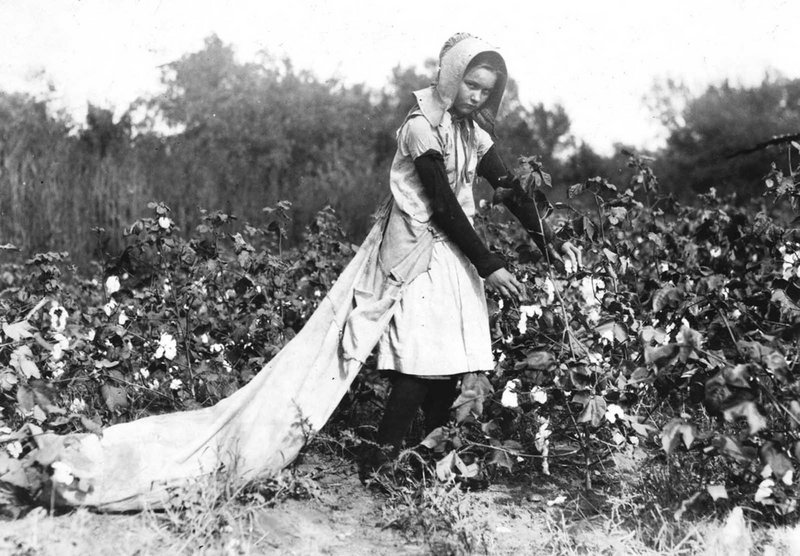 Shorpy Higginbotham, a "greaser" on the tipple at Bessie Mine, of the Sloss-Sheffield Steel and Iron Co in Alabama. He said he was 14 years old, but it is doubtful. He carries two heavy pails of grease, and is often in danger of being run over by the coal cars. Photographed in December of 1910.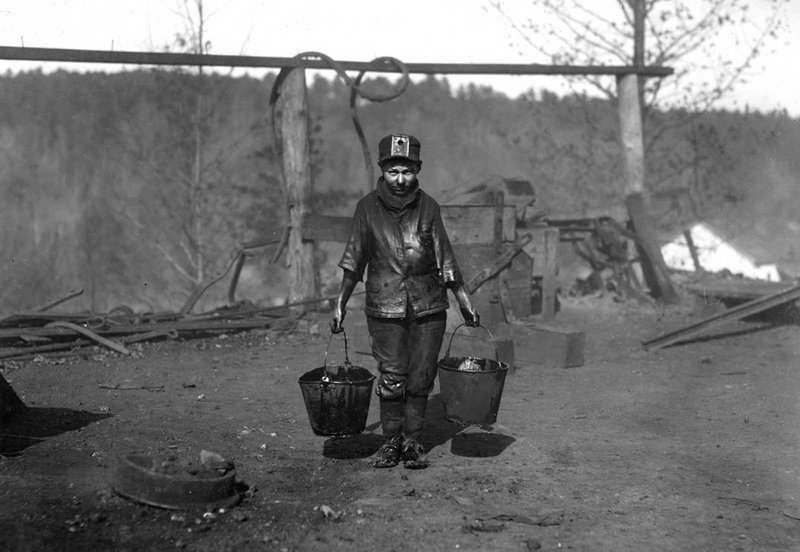 Minnie Carpenter, (left) photographed in November of 1908 at Loray Mill in Gastonia, North Carolina. Minnie makes fifty cents for a 10-hour day as a spinner in the mill. The younger girl works irregularly.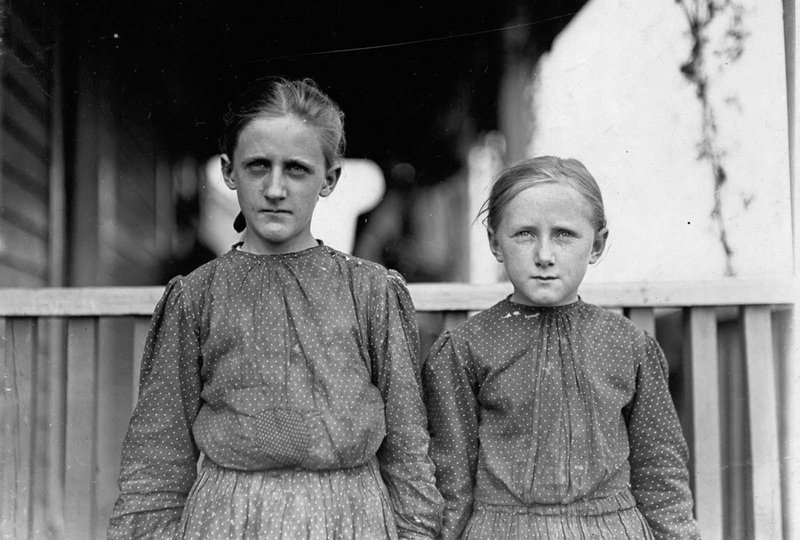 Pin-boys work in the Arcade Bowling Alley in Trenton, New Jersey, on December 20, 1909. The boys worked until midnight and later.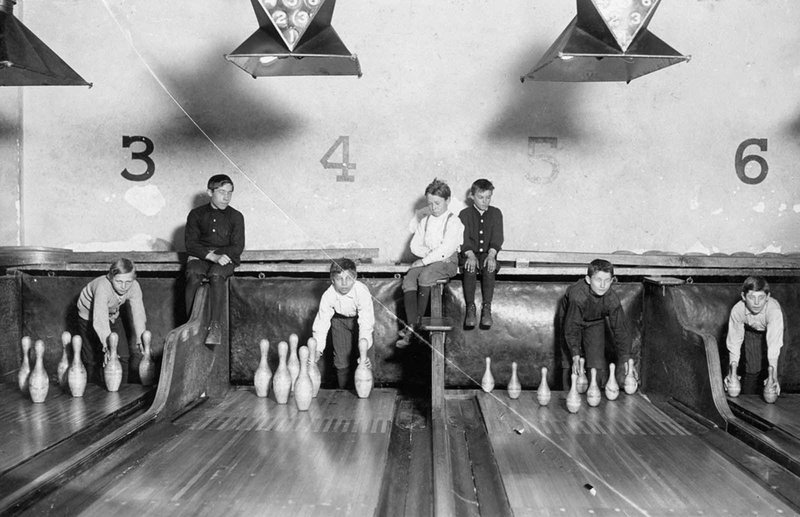 A young driver in the Brown Mine in Brown, West Virginia, in September of 1908. He had been driving pack animals for one year, working from 7 a.m. to 5:30 p.m. daily. The device attached to his cap is an oil-wick cap lamp, which would be lit when the boy was working in the mine tunnels.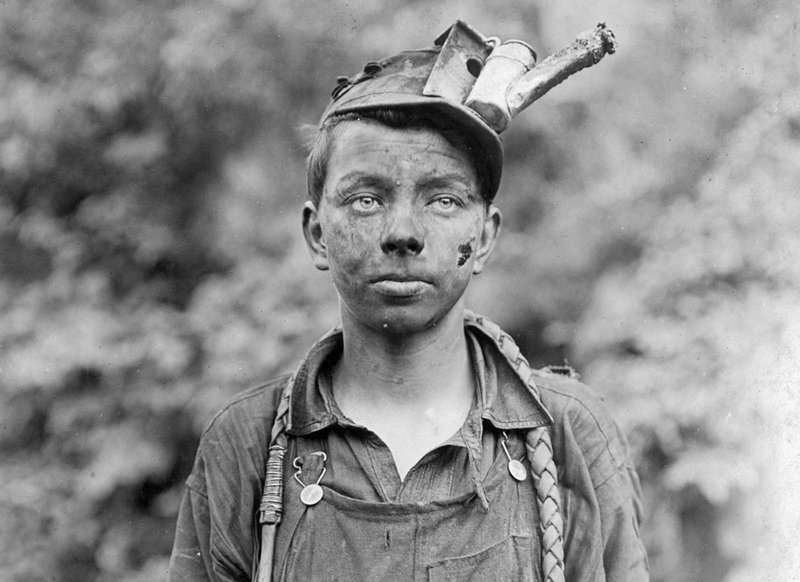 Young doffers in Mollahan Mills in Newberry, South Carolina, on December 3, 1908. A doffer is someone who removes, or "doffs", bobbins or spindles that hold spun cotton or wool from a spinning frame, then replaces them with empty ones.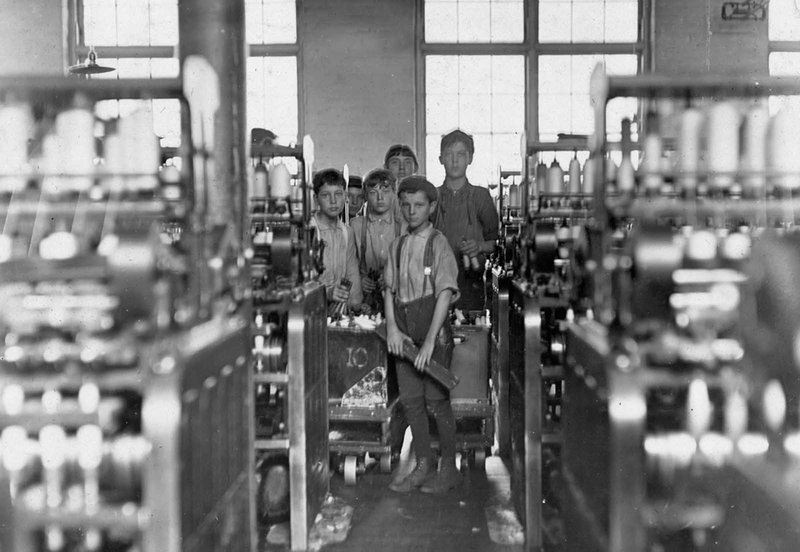 Two young workers, a raveler and a looper, in Loudon Hosiery Mills in Loudon, Tennessee, in December of 1910.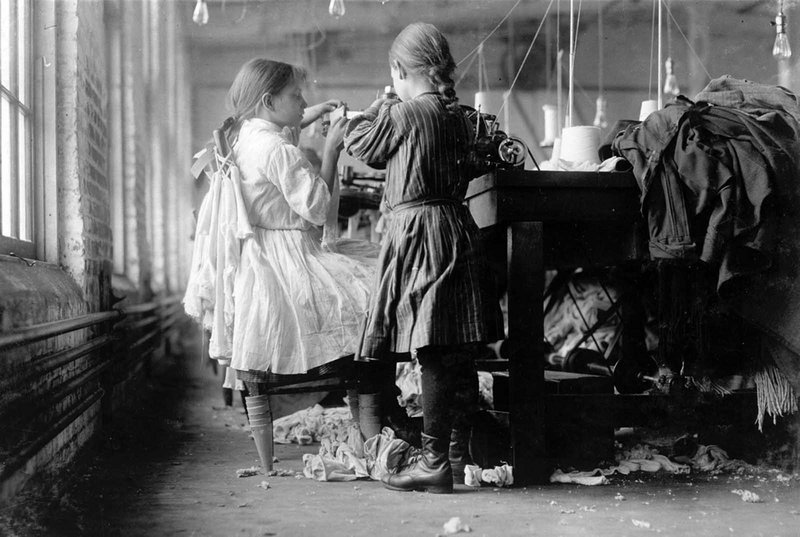 An injured young mill worker. Giles Edmund Newsom, photographed on October 23, 1912. Giles was injured while working in Sanders Spinning Mill in Bessemer City, North Carolina, on August 21st, 1912. A piece of machinery fell on his foot, mashing his toe. This caused him to fall onto a spinning machine and his hand went into unprotected gearing, crushing and tearing out two fingers.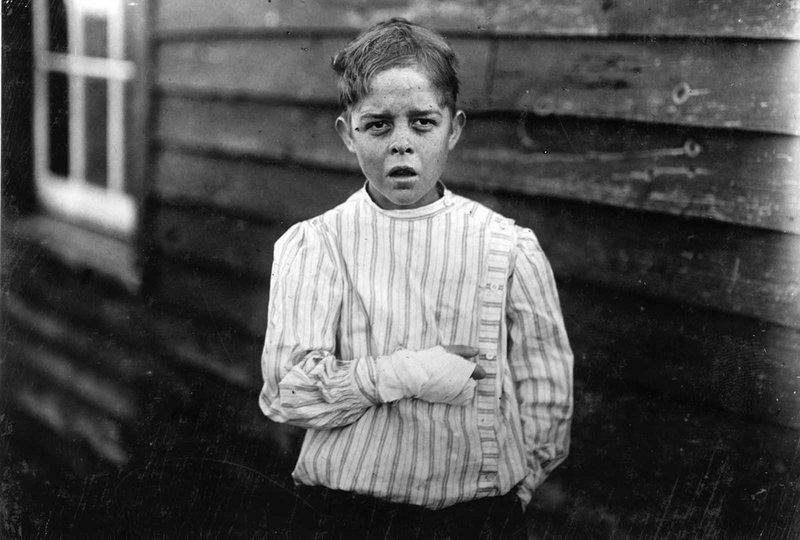 Bibb Mill No. 1 in Macon, Georgia, on January 19, 1909. Some young workers were so small they had to climb up on the spinning frame to mend the broken threads and put back the empty bobbins.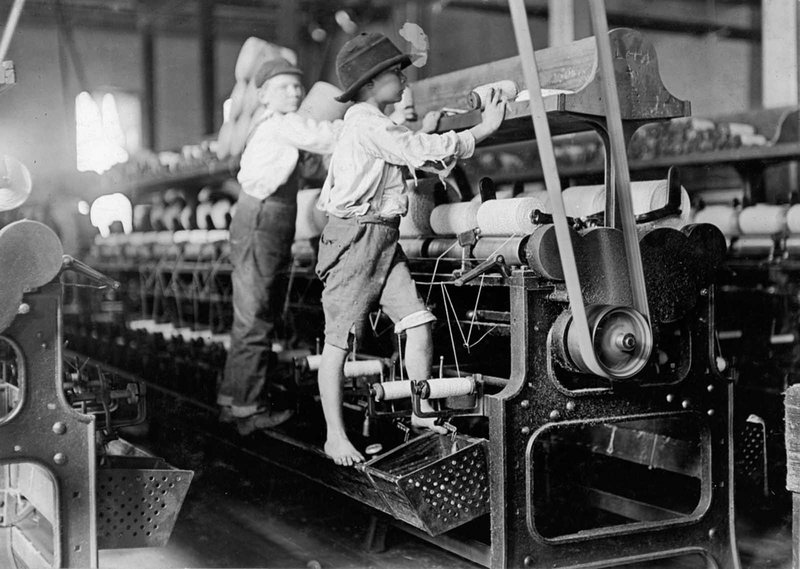 15-year-old Vance, a trapper boy, sits by a large door in West Virginia coal mine in September of 1908. Vance has trapped for several years, receiving 75 cents a day for 10 hours work. All he does is to open and shut this door. Most of the time he sits here idle, waiting for the cars to come. Due to the intense darkness in the mine, the hieroglyphics on the door were not visible until his photo plate was developed.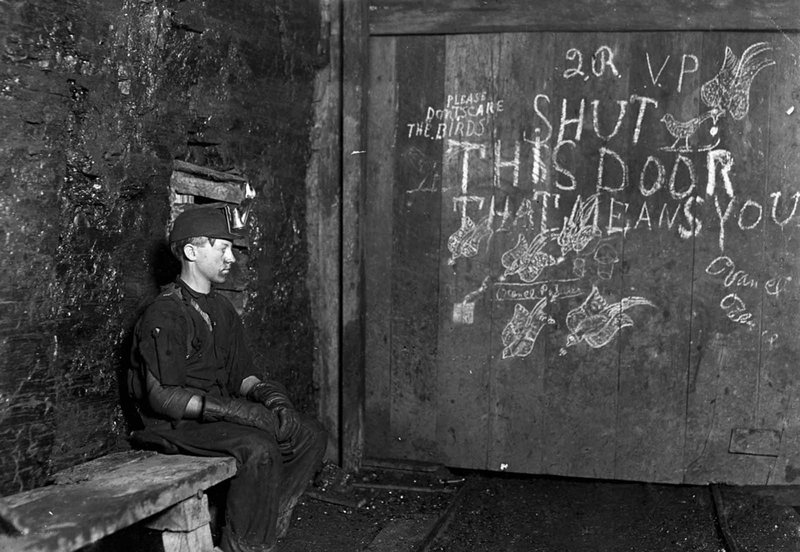 Noon Hour in an Indianapolis furniture factory, on a day in August of 1908.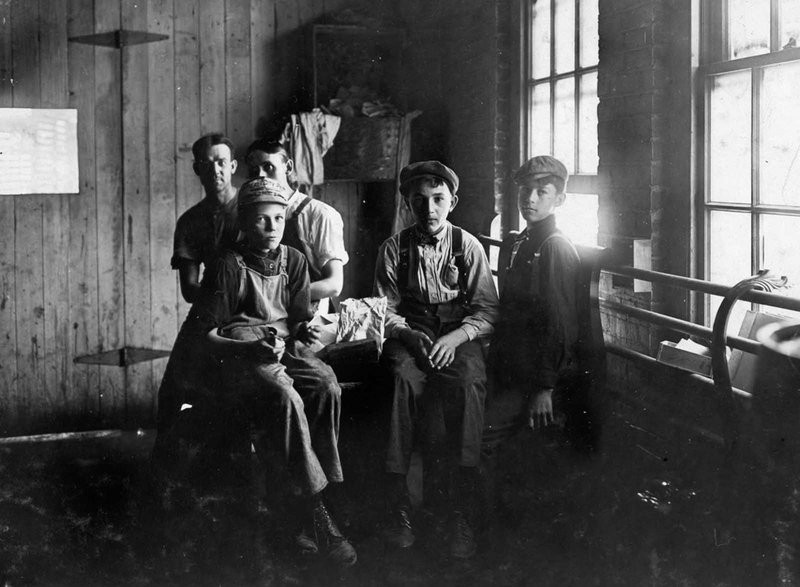 Noon hour in the Ewen Breaker, Pennsylvania Coal Co., in South Pittston, Pennsylvania, in January of 1911.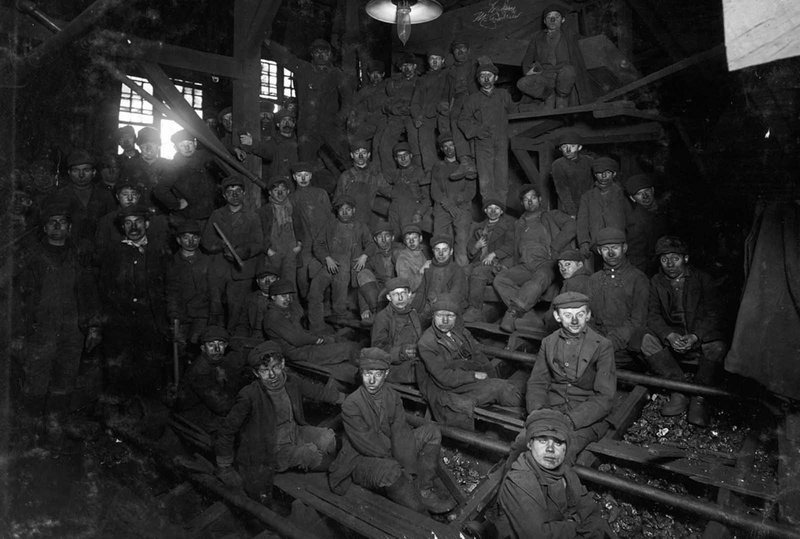 A 10-year-old spinner at the Rhodes Mfg. Co. takes a momentary glimpse of the outside world. She said she had been working there for more than a year. Photographed in Lincolnton, North Carolina, in November of 1908.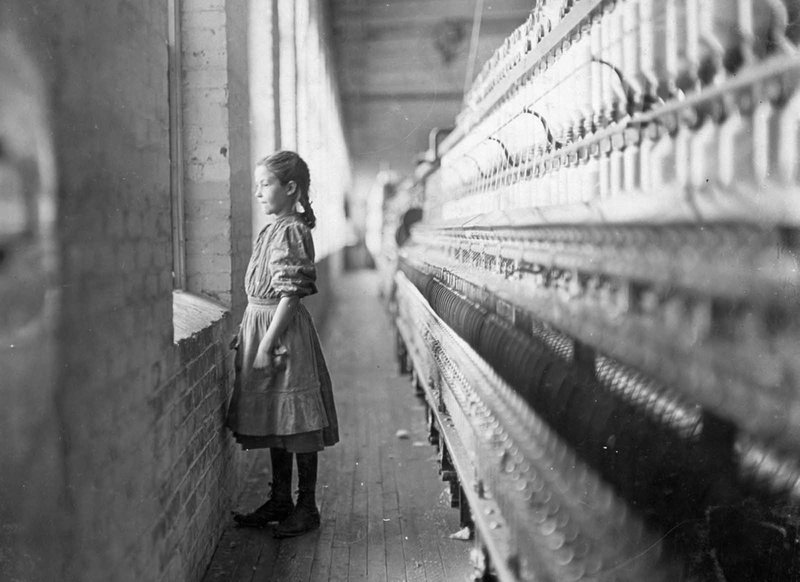 11:00 A. M . Monday, May 9th, 1910. Newsies at Skeeter's Branch, Jefferson near Franklin. They were all smoking. Location: St. Louis, Missouri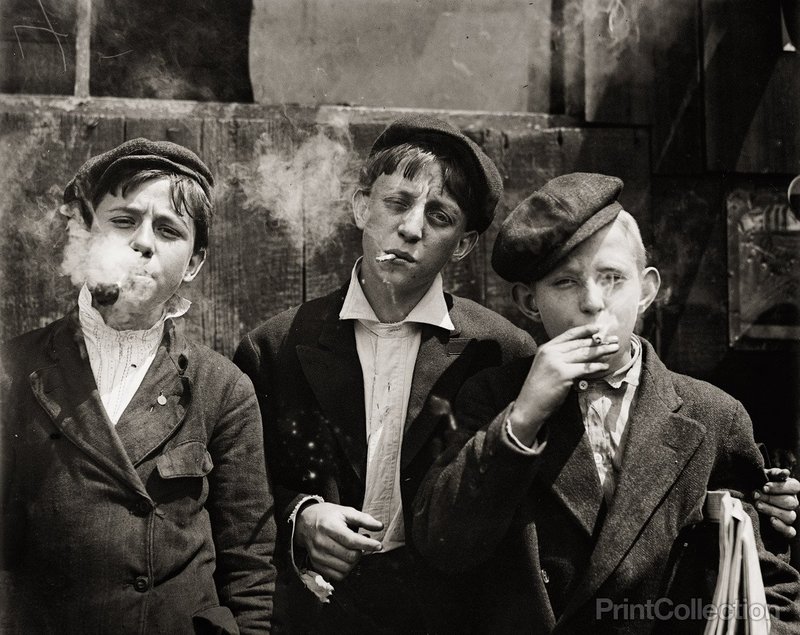 (source)