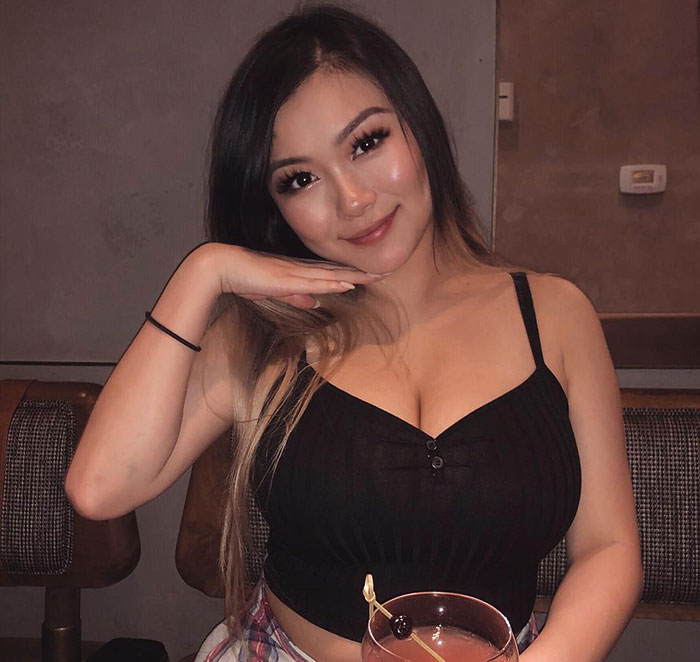 Vicki Li aka Vickibaybeee is a model and influencer who has garnered millions of followers online and is known for having a large chest.
Vicki was born on July, 31 1993 in China. She grew up in China and eventually moved to Houston, Texas.
When she was 5 years old, she gravitated towards dancing and learned Chinese traditional dance, ballet and jazz.
In high school she describes herself as a 'nerd fobby shy Asian girl', who would stay at home and read and draw manga all day. However she was on the dance team and would dedicate a lot of her time to it.
She majored in petroleum engineering in college and graduated in 2018.
She started gaining popularity online with Tumblr, posting selfies and when she moved on to Instagram, her popularity soared.
She was named Miss Hot Import Nights in 2015 and has been been modeling for the event ever since.
Vicki has a Shiba Inu dog named Goku. She recently lost her 15-year-old dog, Kobe, in January. She posted a sweet message about her dog on Instagram:
To my sweet boy, Kobe:

The house is so quiet now, I'm missing your loud footsteps. However, I know you're in a better place.

Even in pain you tried to fight and protect me, forever by my side.

Someone told me that you were finally able to move on because you knew Goku would continue the love you have shown me for the past 15 years.

To your last breath, you made sure I would be okay.

No words can describe how much you meant to me. I hope you are forever resting in peace my son. My best friend.

Until we meet again, watch over us.
Her hobbies are reading, drawing manga and dancing and eating food. She is a huge foodie and has a Instagram page dedicated to her food adventures.
She reveals that she is a super late night owl and goes to bed 'at 5 a.m. on a daily basis'
When shes out and about her favorite alcoholic drinks are chilled Remy Martin 1738 and shots of Hennessy VSOP Privilege.
Her favorite place to visit is Hawaii and mentions that the 'people are so friendly, and I enjoy everything about the island.'
Regarding her modeling career, Vicki has said that
"I'm not sure I can make a good living off it. I want to do more, but I'm busy studying. You can only model for 10 years. What do you do after that? For me I'm going to become a petroleum engineer."
The traits that she looks for in a man is for him to be 'trustworthy, reliable, determined, honest, goal-oriented, kind, caring, funny, and romantic.'
Vicki is in a relationship with jyfosho. They have been dating since July of 2018.
Vicki says she is annoyed at the amount of catfish accounts all over social media. She said she would be a millionaire if every catfish account gave her a dollar.
When it comes to facial enhancements, Vicki is honest about the work the she has done and says she has received jawline Botox, lip filler augmentation and Kybella.
(Related: Trust us, you will love Mati Marroni)
| | |
| --- | --- |
| Full Name: | Vicki Li |
| Birthday: | July, 31 1993 |
| Hometown: | China |
| Location: | Houston, Texas |
| Ethnicity | Chinese |
| Occupation | Model, Actress, Influencer |
| Relationship Status: | In a relationship (jyfosho) |
| Height: | 5 ft 4 in (162.56 cm) |
| Measurements: | 32-26-24 |
| Bra Size: | 32DDD (natural) |
| Dress Size: | 2 |
| Shoe Size: | 6.5 |
| Favorite body part: | Eyes |
| Zodiac Sign: | Leo |
| Pets: | 1 – Dog (Shiba Inu) |
| Hobbies | reading, drawing manga, dancing, eating food, karaoke |
| Favorite Drinks: | Remy Martin 1738, Hennessy VSOP Privilege. |
| Favorite TV Shows: | Homeland, The Wire, OZ, Seinfeld, Breaking Bad, Game of Thrones, Better Call Saul. |
| Social networks: | Instagram, Twitter |
If you like Vicki Li, you may also like: