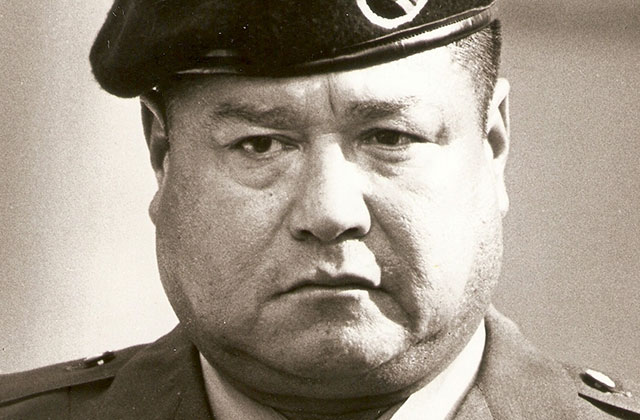 Short Answer: Medal of Honor recipient, Roy P. Benavidez flew into a gunfight to save 12 Special Forces soldiers with only a knife. He was shot multiple times and believed dead, until he spit in the face of the medic trying to put him in a body bag.
Early Life
Roy Benavidez was born in 1935 near Cuero, Texas, to impoverished sharecroppers of Mexican and Yaqui Indian ancestry. Both parents died of tuberculosis before his eighth birthday. He and his younger brother, Roger, along with eight cousins, were raised by their grandfather, an aunt and uncle, in El Campo.
As a young man growing up in humble surroundings, Benavidez shined shoes at the local bus station, labored on farms in Texas and Colorado, and worked in a tire shop. Regularly insulted as "a dumb Mexican," he dropped out of school in the seventh grade.
Benavidez enlisted in the Texas Army National Guard in 1952 before entering the regular Army in 1955. Hilaria "Lala" Coy became his wife in 1959, the same year he completed airborne training and joined the 82nd Airborne Division.
First Tour And Injury
Benavidez stepped on a land mine while serving his first tour in Vietnam as an advisor in 1965 and was evacuated to the United States. The doctors at Brooke Army Medical Center claimed he would never walk again, so they prepared to discharge him from the military.
But how was a crippled minority, who was also a high-school dropout, going to support himself and his wife?
So Benavidez did the only thing he could. At night, when the doctors and nurses left, he tried to wiggle his toes till he felt them again. Then he would use his elbows and chin to crawl toward the wall next to his bed. Then he'd try to get off the bed by himself.
In July 1966, the man whom the medical experts said couldn't possibly walk again did just that.
Second Tour And Rescue
He returned to active service and trained at Fort Bragg, N.C., for the elite Studies and Observations Group. Still suffering from unrelenting back pain, Benavidez returned for a second tour in Vietnam in January 1968. He was assigned to Detachment B56, 5th Special Forces Group Airborne, First Special Forces at Loc Ninh.
A devout Catholic, Benavidez was attending prayer services on May 22, 1968 when he heard a desperate radio plea, "Get us out of here! For God's sake, get us out!" The cry for assistance came from a 12-man Special Forces Recon team. They had stumbled upon an entire infantry battalion of the Vietnam People's Army (NVA) of perhaps 1,000 men.
Three choppers had already attempted a rescue but were driven back by small arms and anti-aircraft fire. Benavidez did not have orders to go, but with a medical bag in one hand and a knife in the other, he jumped into the bay of a Huey revving up for another rescue attempt.
Intense enemy fire in the area kept the chopper from landing. Hovering 10 feet off the ground, Benavidez made the sign of the cross across his chest and leaped off the chopper. The long-suffering recon unit was 75 yards away. Benavidez began the deadly gauntlet, fell when an AK-47 round pierced his right leg, sprang back to his feet but was immediately knocked off his feet again by a hand grenade that ripped his back and neck.
Those initial wounds were the first of 37 separate bullet, shrapnel, and bayonet injuries he would receive during the next six hours of violent combat.
Benavidez mustered the valor to rise again and run under fire to the crippled 12-man squad. He found four dead and eight others badly wounded.
He began passing out ammo to the soldiers still able to fight; he injected morphine into the wounded; he called in air strikes, then was hit again. Bleeding and in pain, Benavidez dragged dead and injured men to the hovering chopper while providing cover fire with an assault rifle he found on the ground. The chopper moved to recover even more bodies. The enemy fire increased.
Benavidez made another mad dash to retrieve classified documents of radio codes and call signals still secreted on the body of the dead team leader.
As he seized the documents, Benavidez took another round in the stomach and additional shrapnel fragments in his back. Coughing up blood, he attempted to return to the chopper only to see the pilot receive a mortal wound. The Huey crashed to the ground.
Undaunted, Benavidez pulled wounded from the overturned chopper, called in more airstrikes, and directed the fire from helicopter gunships.
Blood trickled into his eyes, temporarily blinding his vision. In the midst of deadly fire, Benavidez set up a defensive perimeter and continued to rally injured soldiers to fight on.
He later recollected, "I made the sign of the cross across my chest so often my arms looked like an airplane propeller."
Before the second chopper came in, Benavidez was wounded several more times. Urging the injured to fight on and keep praying, he slung a wounded soldier over his shoulder and scurried for the chopper.
En route to the Huey, an enemy soldier jumped up and clubbed Benavidez from behind with the butt of a rifle; Benavidez and the wounded soldier fell to the earth.
Bayoneted in both arms, Benavidez managed to grasp the bayonet which gouged his hand but gave him enough time to pull out a knife and kill the enemy soldier.
Now with a shattered jaw, both arms lacerated, a slashed hand, bullet holes and shrapnel in his body, Benavidez assisted the last remaining injured man onto the Huey — their Vietnamese interpreter.
The rescued soldiers inside the Huey pulled Benavidez's battered body aboard the chopper. Blood pooled, then flowed out the bay door. The flight back to Loc Ninh was a 20-minute ordeal with Benavidez holding his intestines in his hands during the entire trip.
When they landed the wounded were unloaded and examined one by one, it had turned out that Benavidez had even loaded three dead enemy soldiers into the helicopter in case they had classified materials
Pronounced Dead
At Loc Ninh, Benavidez was triaged and pronounced dead. As the doctor attempted to zip up the body bag, Benavidez could only marshal enough strength to do one thing to prove he was still alive: he spit in the doctor's face.
The six-hour heroic achievement of 32-year-old Roy Benavidez was one of the most astonishing feats of the Vietnam War. He was hospitalized for over a year yet refused to accept any praise, proclaiming, "No, that was my duty."
Benavidez's commander thought this courageous wounded warrior would not live long enough to accept the Medal of Honor due to an extensive processing procedure, thus he only recommended the Distinguished Service Cross. It would take years for the wrong to be corrected.
Medal Of Honor
On Feb. 24, 1981, President Ronald Reagan presented Raul "Roy" Perez Benavidez the Medal of Honor. He accepted our nation's highest military award with two pieces of shrapnel still lodged in his heart and a punctured lung.
Benavidez's suggestion to young people: "An education is the key to success. Bad habits and bad company will ruin you."