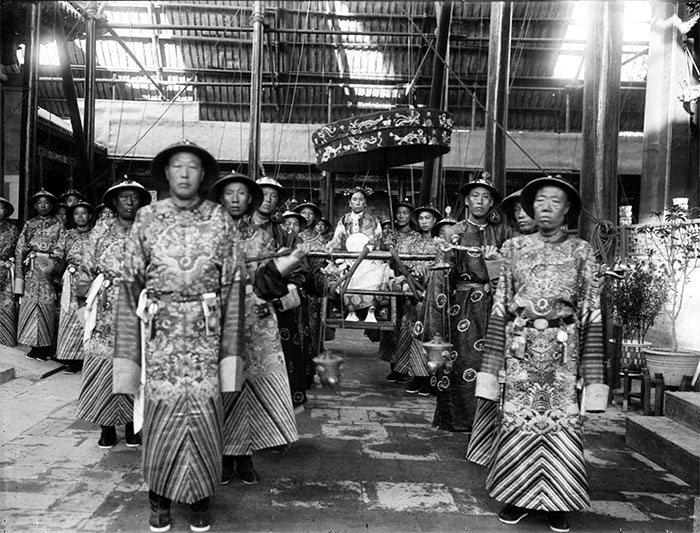 Game of Thrones fans may first think of Varys or the Unsullied army when the word eunuch is said, but there are many real life examples of purposely castrated men throughout history and the act has a complicated past.
What is a eunuch?
A eunuch is a man that has been castrated either by choice or involuntarily to perform a specific social function. The word ""eunuch" loosely translates in Greek to "guarding the bed," because one of their original duties was as a chamber guard to high standing women and couples. Although the term is Greek, the culture did not initially employ them often and they are more historically linked to Asia and the Middle East.
History of Eunuchs
Eunuchs show up throughout ancient history. The history of eunuchs dates back at least four thousand years. In the Middle East it was used as a punishment against those caught or suspected of participating in homosexual acts. China has a particularly long history of eunuchs dating back thousands of years, with the tradition quite widespread and not at all unusual. Korea, Vietnam, Thailand, India and Burma all have long histories of eunuchs in royal courts.
Why were Eunuchs castrated?
Eunuchs were castrated for several reasons. One reason was punishment, most often relaxed to sexual acts that were considered crimes at the time, like homosexuality and sex outside of marriage. Another reason eunuchs were castrated was more utilitarian. Wanting to use them as bedroom guards for the elite in ancient times, it was thought that removing the testes would remove the threat of sexual interactions with those they were guarding. Modern sexual health experts point out however that the castration may take away sexual urges and the ability to have sex, but it does not make a person asexual.
Eunuchs were also used as guards and political aids, gaining political power in these roles. One of the reasons eunuchs were castrated and placed in these highly sensitive political roles was because they were perceived to be no threat to the powers that be, since they could not reproduce, have sons, that could assert authority. Eunuchs could be found in many sensitive roles such as investigating crimes, guarding and servicing the king or emperor, and taking care of palace pets.
Do eunuchs have everything cut off?
Yes and no. Some eunuchs had their testes removed and their penis left intact. Others, like the eunuchs in the Chinese dynasties thousands of years ago had their penis and testicles cut off. Cutting off the penis was far more dangerous and often led to death in ancient times because of the open wound and infection, so removal of just the testes became favored. Just a few hundred years ago, boys were being captured in Africa, enslaved and brutally castrated with their penis and testes removed with a knife as they were chained to a table. Only 10% of these boys survived the procedure. Those that did would then command a high fee for their enslavers.
What do they cut off of a eunuch?
It depends on the culture and the tradition, but most often the part of a man's anatomy that is cut off to become an eunuch is the scrotum and testes. There have been instruments unearthed in Asia that illustrate the devices that were used. In China however, both the testes and penis were cut off. Interestingly enough, the removed penis and testes were saved in a jar and was a prized possess of the eunuch. They would be preserved and when the eunuch died, they would then be returned to the eunuch's body so that he would then become a whole man in his next life. It should also be noted that these procedures were most often done without any anesthesia or pain relief.
What does a eunuch look like down there?
With full castration, you just have to think of a man without any of the external sexual organs. Here is a picture of a nude eunuch (nsfw)
What does castration do to a man?
Castration can have a host of implications for a man that go beyond just the loss of sexual function. The obvious effect is the inability to maintain an erect penis and engage in sexual intercourse. Because the majority of testosterone is produced in the testes, therefore eunuchs experience a greatly reduced sex drive. A significant drop in testosterone can also cause muscle loss and reduced strength, as well as more random side effects like hot flashes and vertigo. Men also may experience secondary sex characteristic impact like the loss of body hair and breast enlargement.
Eunuchs that were castrated prior to puberty generally don't ever experience the secondary sexual characteristics such as body and facial hair, deeper voice and muscle growth. A good example of this type of eunuch were the castrati singers of the 18th century in Italy who were castrated before puberty, at around ten years old, to prevent their voice from deepening.
The voice of Alessandro Moreschi in his fifties, castrated as a child to preserve his singing voice
How does a eunuch urinate?
For eunuchs who only had their testes removed there was no issue with using a penis to urinate, like any other man would urinate. However, for those eunuchs who were fully castrated, urinary problems can be serious. When the penis is cut off, during the healing process, a tube or spigot would be inserted into the urethra to prevent it from closing. After 3 days it was removed and if urine flowed out, the operation would be deemed a success.
Although there are not many medical studies, some literature from the past has explained that male eunuchs had to squat and spread their legs in order to urinate without mess.
Do eunuchs still exist?
Yes, but not for the same reasons of ancient history. There are hundreds of thousands of men who suffer the effects of castration after treatment for prostate cancer. Although it is not a surgical removal of the external sex organs, these men still suffer from the side effects of castration due to surgery or radiation treatment.
Some men have chosen to have surgery to become castrated for personal reasons. Sex addiction, pedophilia and unwanted homosexual feelings have led a small segment of the population to choose castration as a way to deal with their unwanted urges. Although it is extreme, some studies that followed these men showed they were satisfied with their decision years after.
Finally, there are eunuchs, especially in India who are better characterized as transgender and have undergone transitioning away from being a man, but have not been able to access replacement hormone therapy to transition to become a woman. They are known as the "third sex" and can generally only make their living as entertainers, without being accepted into mainstream society.
Eunuchs are a historical curiosity that captivates our imaginations. They bring gender roles and our beliefs about masculinity and manliness into question. But the history of eunuchs is often a painful one that shows a unique aspect to our past.