A British officer leads the way "over the top" amid the bursting of German shells.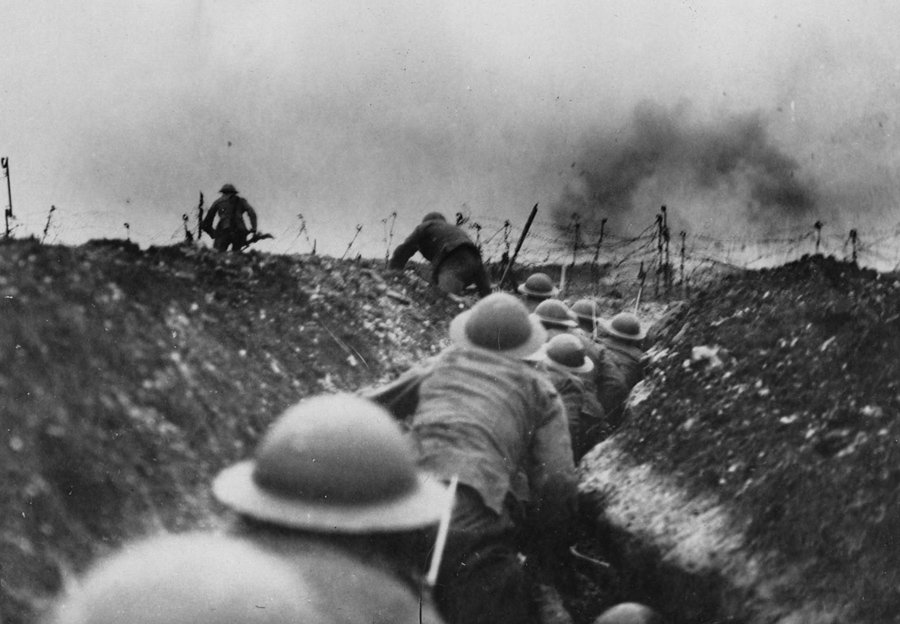 German stormtrooper during the 1918 Spring Offensive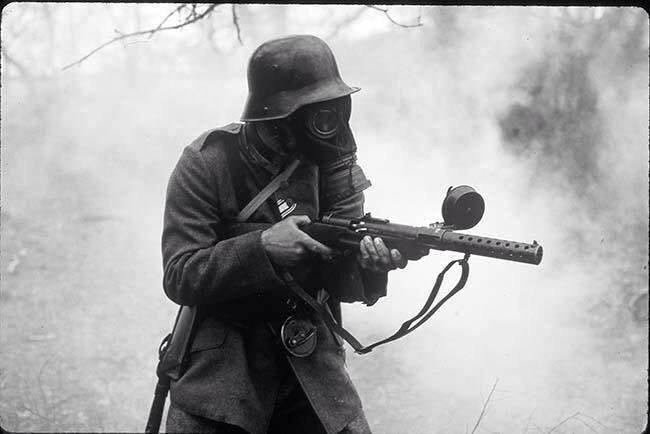 Schmeisser's MP-18 – The First True Submachine Gun
French soldiers in a bayonet charge, up a steep slope in the Argonne Forest in 1915
During the Second Battle of Champagne, 450,000 French soldiers advanced against a force of 220,000 Germans, momentarily gaining a small amount of territory, but losing it back to the Germans within weeks. Combined casualties came to more than 215,000 from this battle alone.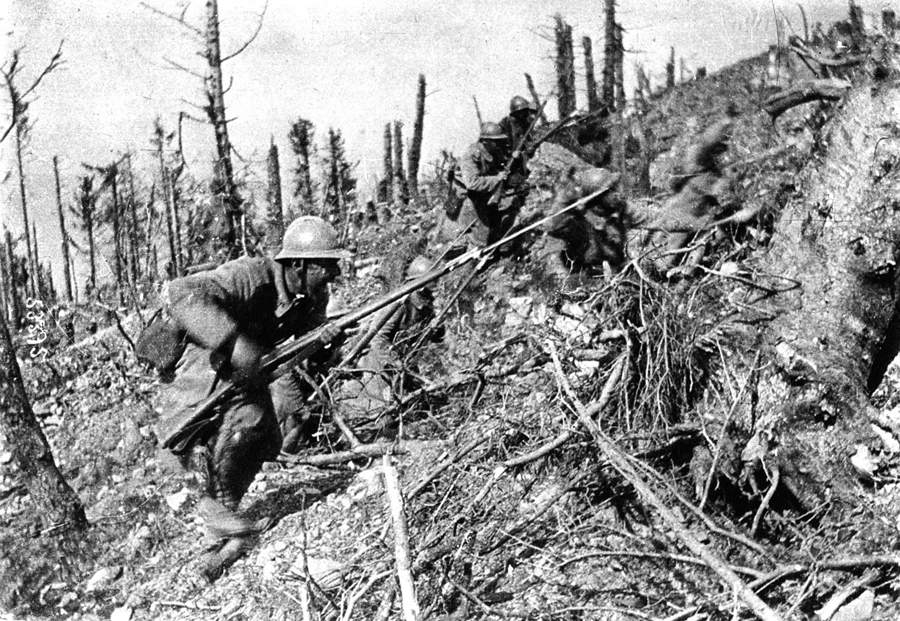 Six German soldiers pose in a in trench with machine gun, a mere 40 meters from the British line
The machine gun appears to be a Maschinengewehr 08, or MG 08, capable of firing 450-500 rounds a minute. The large cylinder is a jacket around the barrel, filled with water to cool the metal during rapid fire. The soldier at right, with gas mask canister slung over his shoulder, is peering into a periscope to get a view of enemy activity. The soldier at rear, with steel helmet, holds a "potato masher" model 24 grenade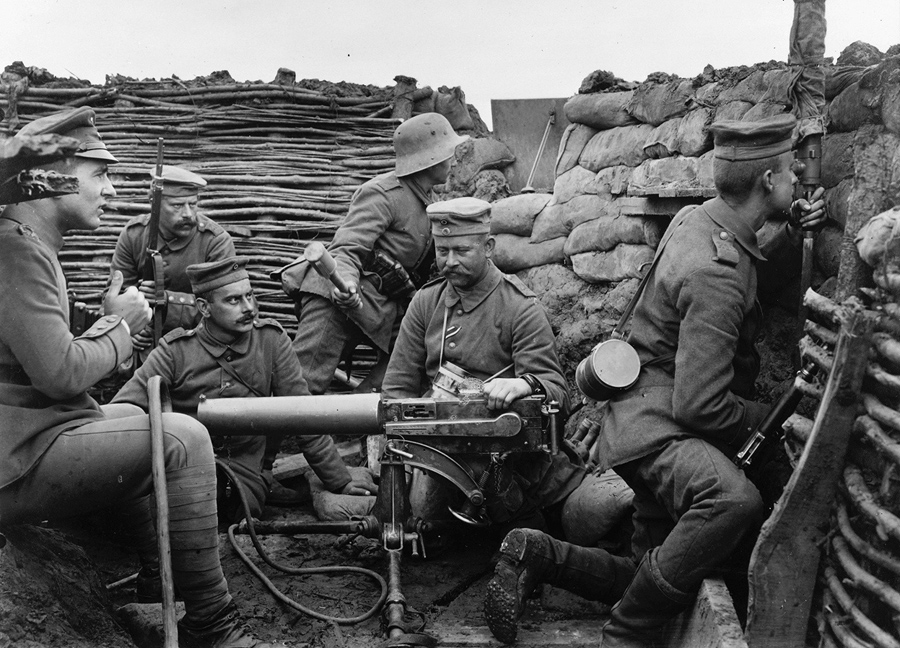 Soldiers of an Australian 4th Division field artillery brigade walk on a duckboard track laid across a muddy, shattered battlefield in Chateau Wood, near Hooge, Belgium, on October 29, 1917.
This was during the Battle of Passchendaele, fought by British forces and their allies against Germany for control of territory near Ypres, Belgium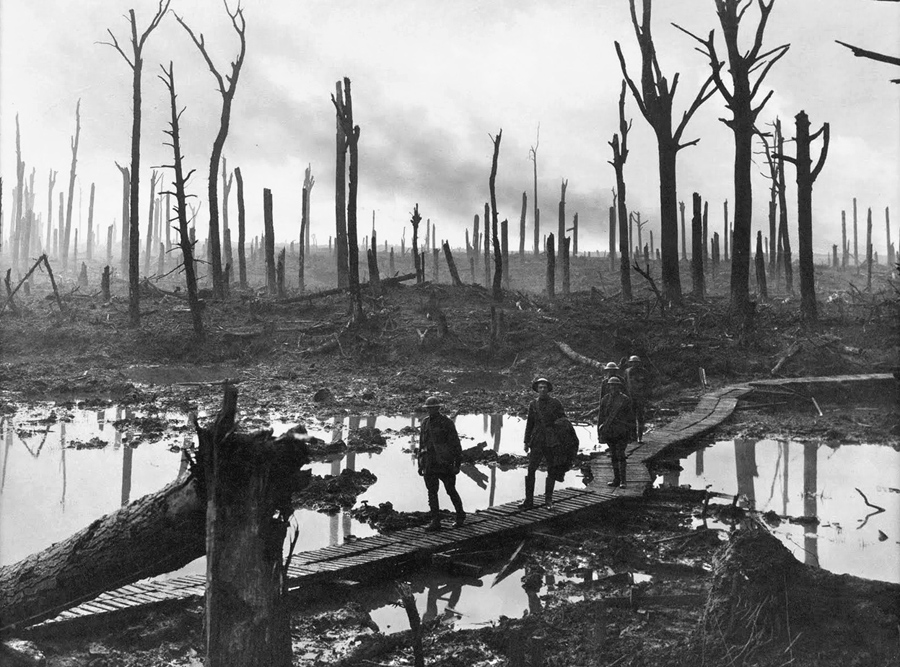 "Pill box demolishers" being unloaded on the Western Front. These enormous shells weighed 1,400 lbs. Their explosions made craters over 15 ft. deep and 15 yards across.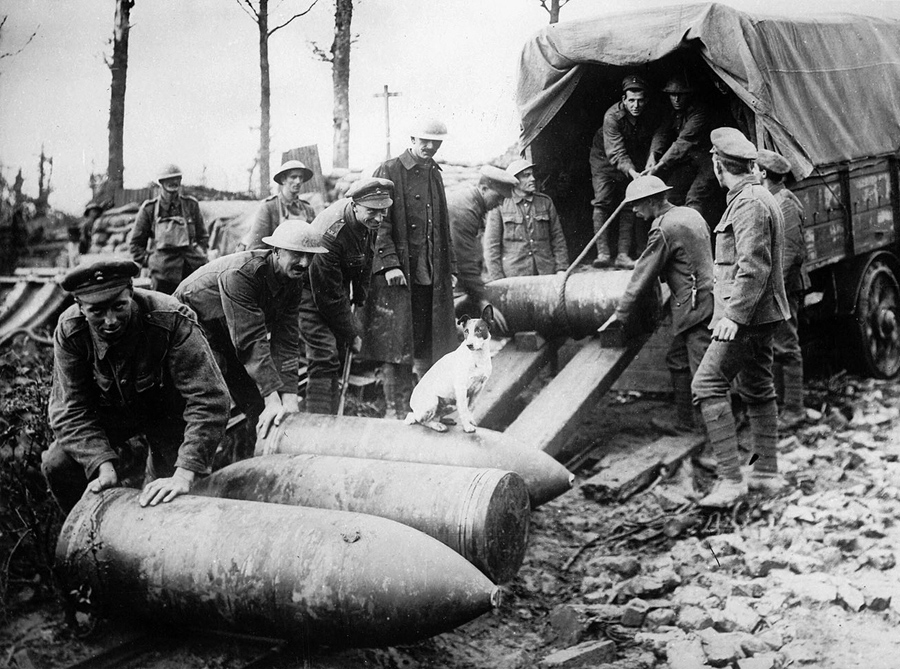 German soldiers practice with a flame-thrower on April 4, 1917.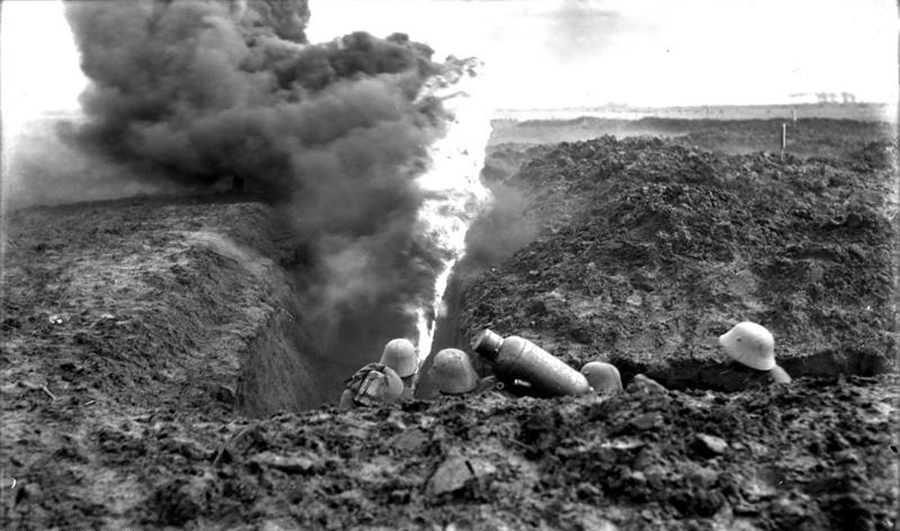 British tanks pass dead Germans who were alive before the cavalry advanced a few minutes before the picture was taken.
World War I saw the debut of tank warfare, with varying levels of success, mostly poor. Many of the earlier models broke down frequently, or got bogged down in mud, fell into trenches, or, (slow-moving) were directly targeted by artillery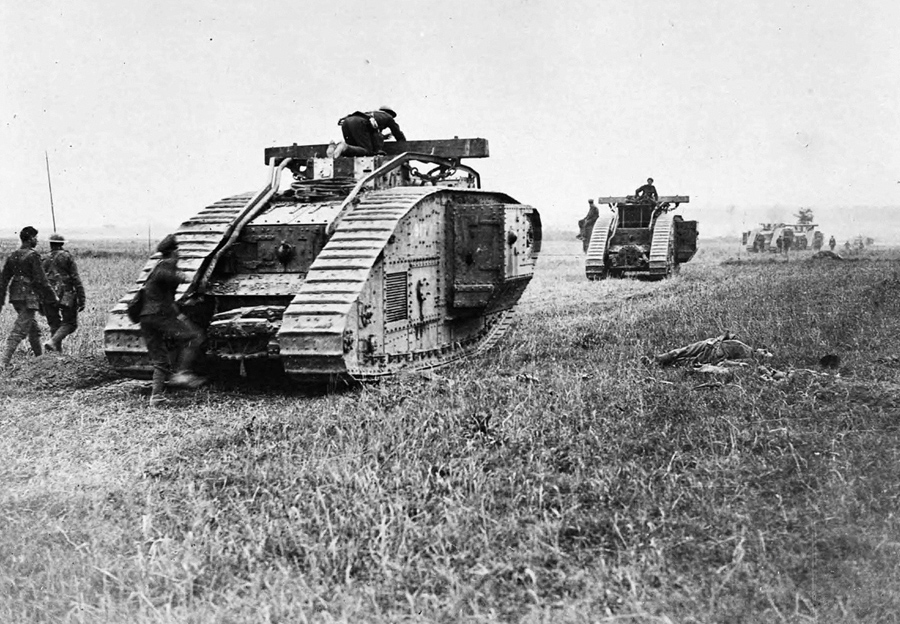 An aerial view of the Hellish moonscape of the Western Front during World War I
Note the criss-cross patterns of multiple generations of trenches, and the thousands of craters left by mortars, artillery, and the detonation of underground mines.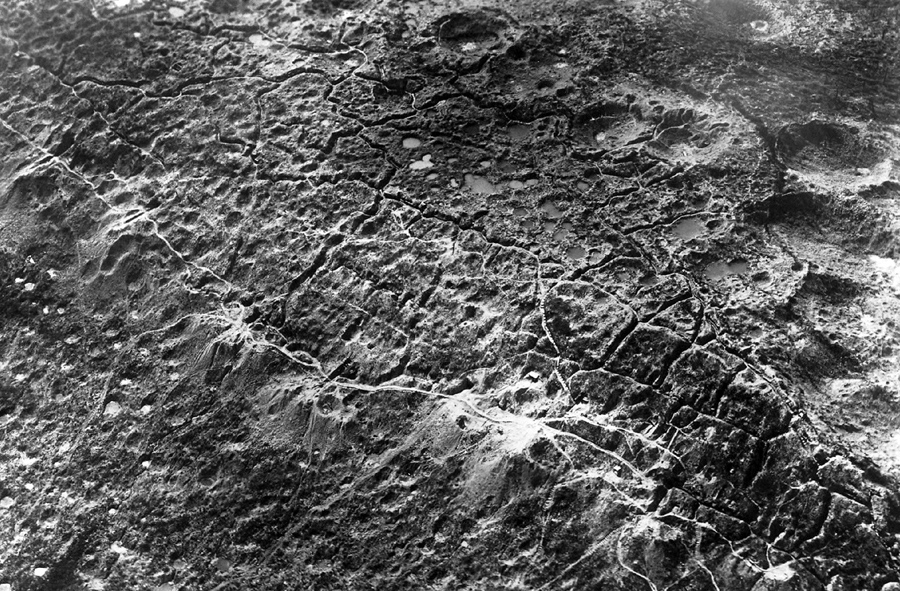 German soldiers flee a gas attack in Flanders, Belgium, in September of 1917
Chemical weapons were a part of the arsenal of World War I armies from the beginning, ranging from irritating tear gases to painful mustard gas, to lethal agents like phosgene and chlorine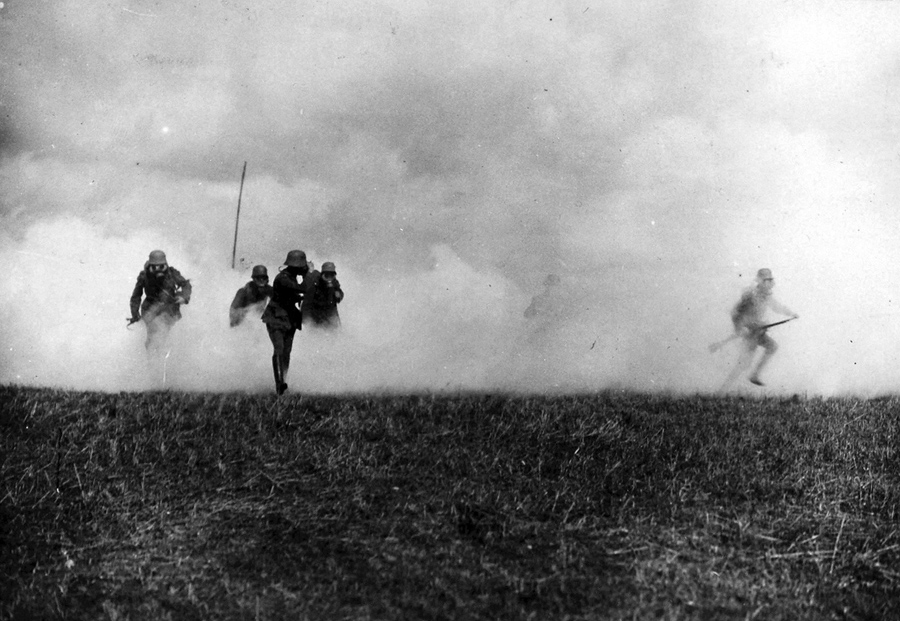 The interior of an armored train car, Chaplino, Dnipropetrovs'ka oblast, Ukraine, in the spring of 1918. At least nine heavy machine guns are visible, as well as many ammunition cases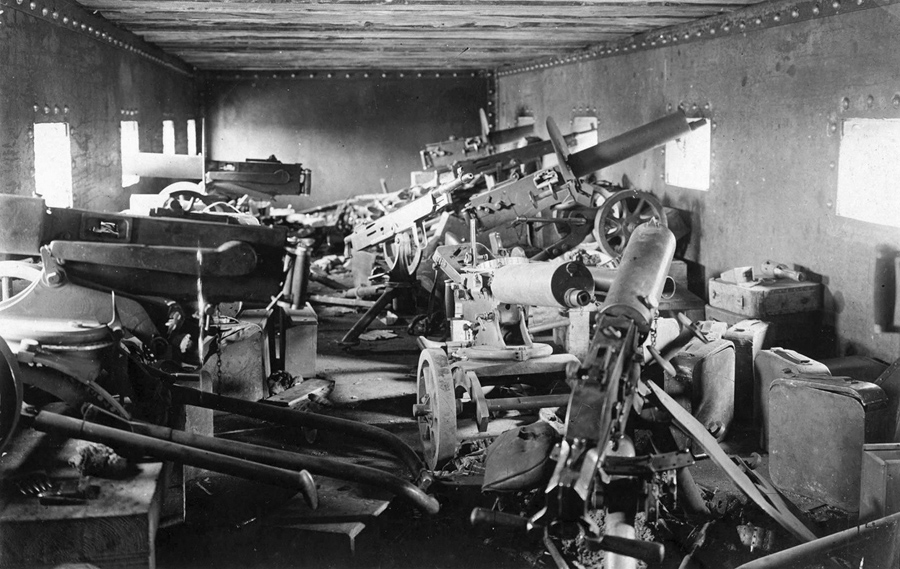 Soldier on a U.S. Harley-Davidson motorcycle, ca. 1918. During the last years of the war, the United States deployed more than 20,000 Indian and Harley-Davidson motorcycles overseas.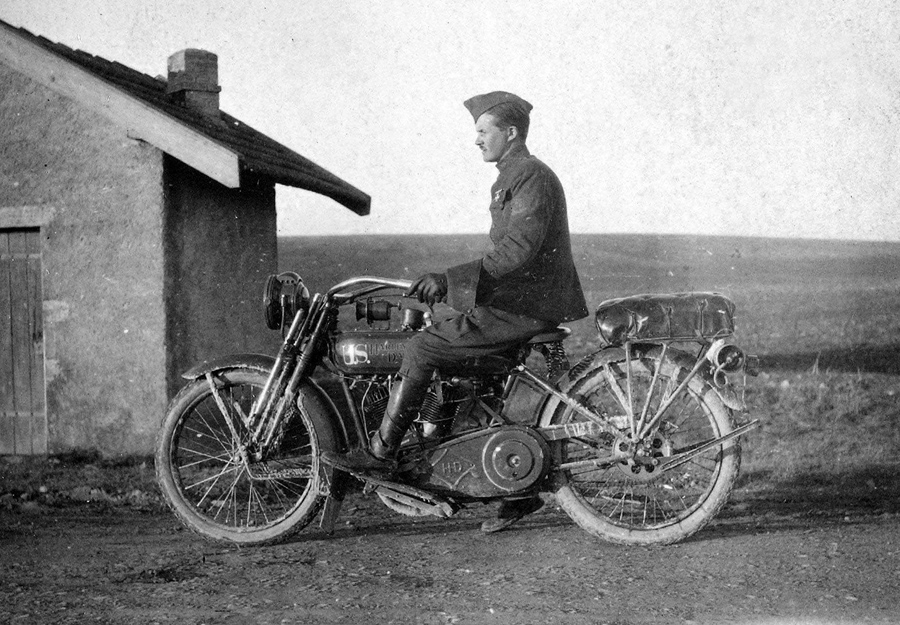 An experimental Red Cross vehicle designed to protect the wounded while gathering them from trenches during World War I, ca. 1915. The narrow wheels and low clearance would likely make this design ineffective in the chaotic and muddy front line landscape.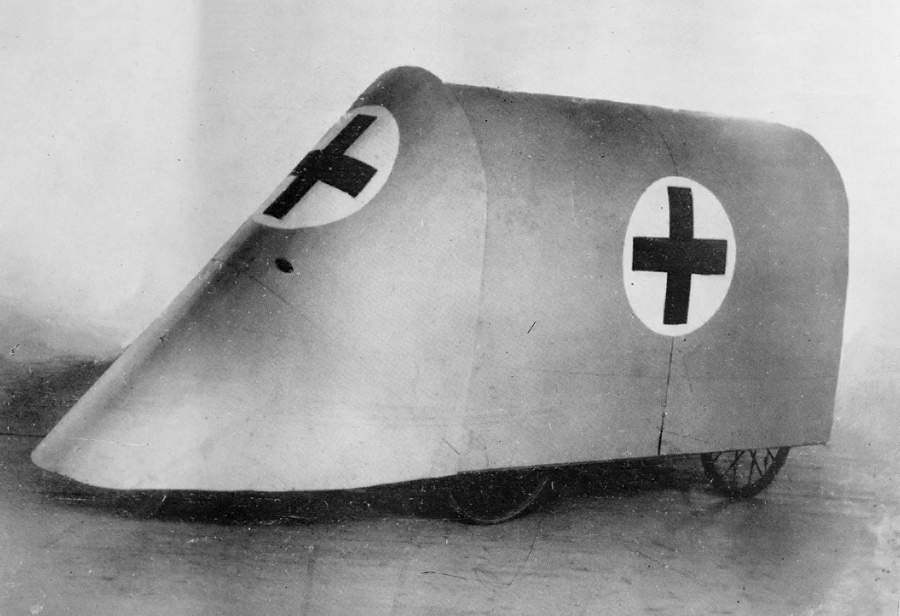 False horses, camouflage to allow snipers a place to hide in no-man's land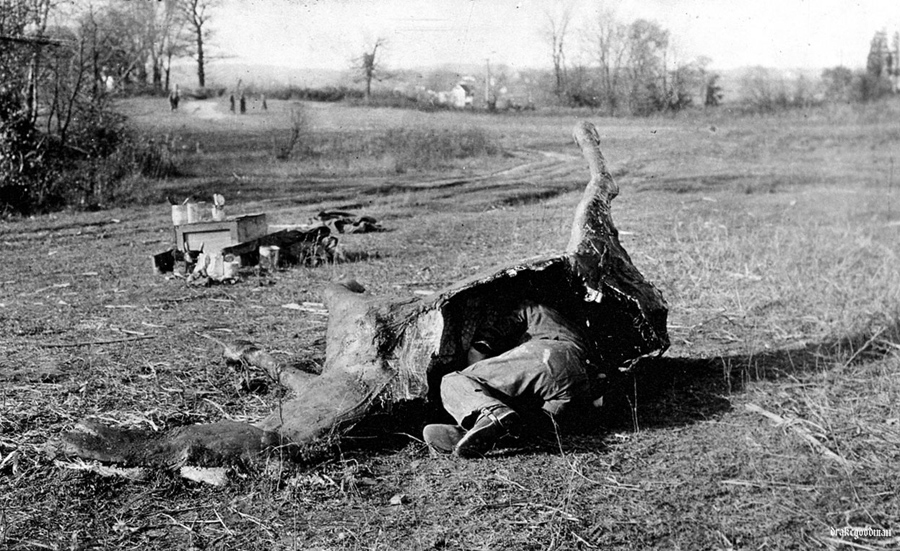 Bandages retrieved from the kit of a British Dog, ca. 1915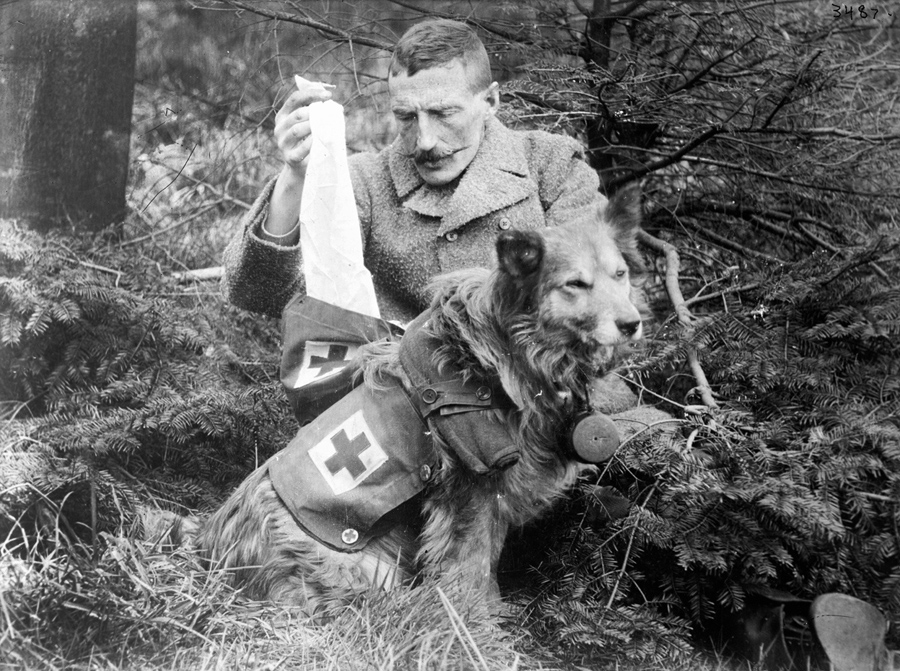 A pigeon with a small camera attached. The trained birds were used experimentally by German citizen Julius Neubronner, before and during the war years, capturing aerial images when a timer mechanism clicked the shutter.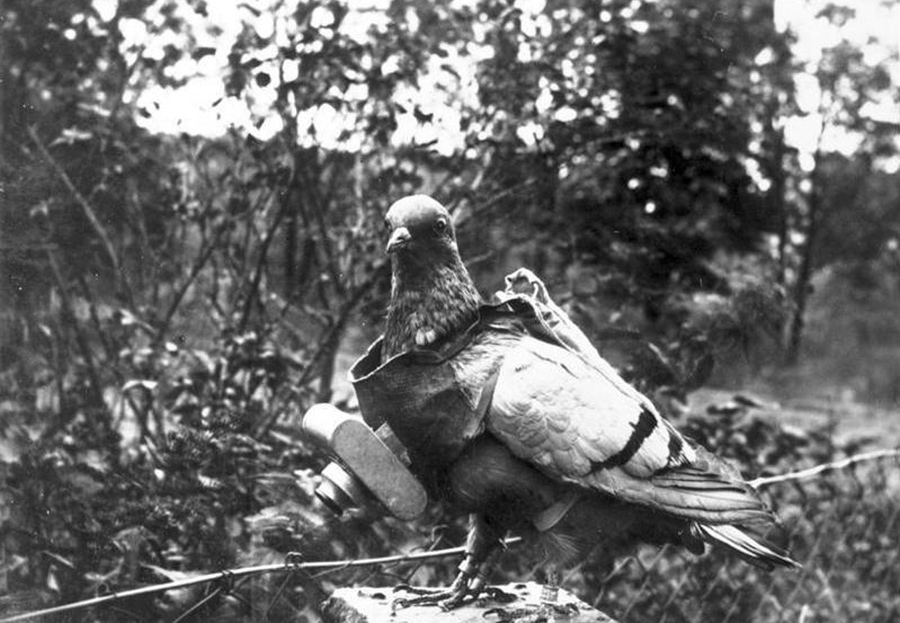 A messenger dog with a spool attached to a harness for laying out new electric line in September of 1917