A little about me
Currently 19 years old, full-time college student studying Accounting. I started a knife sharpening service and make $50/hr
What I do
I run a knife sharpening service in my town out of my parents' garage. I pick up kitchen knives for residential homes, sharpen them, and return them in under 2 hours. I'm not even trying to really scale up right now. I also run a (fairly successful) online ACT tutoring service and have been mowing a lot of lawns as well.
Why knife sharpening
Realized only two stores in my town sharpen knives. One is a camping store and the reviews I hear about them are horrible. The other is William-Sonoma and they mail them out and it takes up to 10 days to get them back. I get them back in under 2 hours.
What kind of sharpener
I use this sharpener: https://amzn.to/3NMZsKL I have two of them. There the perfect balance of speed, quality, and not wearing out my wrists. Eventually I may look into investing in the +$1000 ones
Reviews
Honestly, I'm crazy proud of the reviews I've received.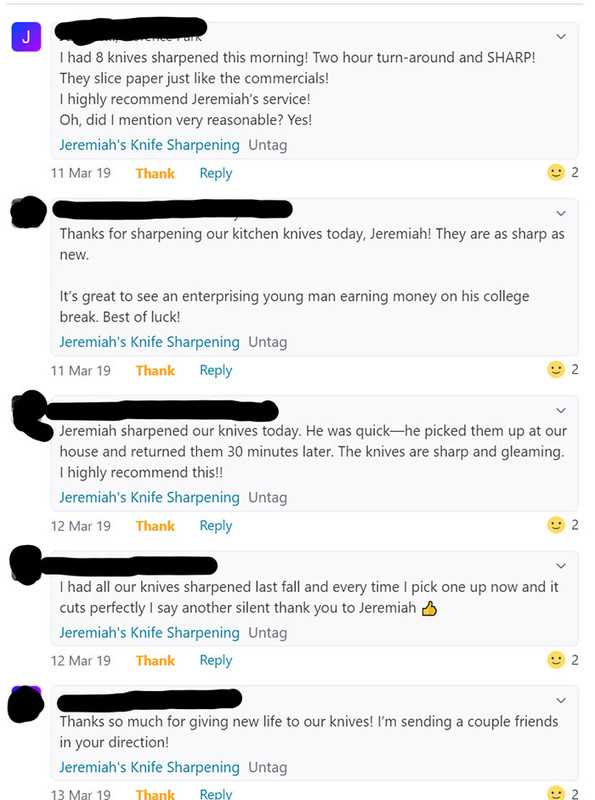 I've realized people dont really care about how sharp they are. I always show up exactly on time, text and communicate constantly during the process, and try to make friendly conversation when I interact with the customers. I also really push the story of a college student and Eagle scout raising money for textbooks (lol read beer) through some entrepreneurial efforts.
Revenue
I only sharpen when I'm home from college. Spring break 2019 I made $900 profit in 7 days. Tbh I keep pretty bad records but I've calculated I make $30-$60/ hour depending on the customer and how bad their knives are. On the days that I'm sharpening from 10-5 I usually make +$250-$400.
Pricing
I charge $1/inch. Most orders run $30-$100. I feel guilty sometimes for t charging much when its really easy, but no one has ever complained and most say its very reasonable.
Expenses.
Honestly, almost negligible. My sharping system costs $120 on Amazon. If sharpening full time, I buy new set of belts every few weeks for $15. A set of belts can easily bring $300-$400 in revenue. I only sharpen in a 3 mile radius from my home so gas is very cheap.
Advertising
I've gotten 95% of my business through referrals on Nextdoor. I ask each customer to write a review, which creates a snowball effect. For those unaware, Nextdoor is a social media app designed for neighborhoods. You only see posts from a ~4 mile radius. Whenever I posted about my service I would get taken down, due to their strict self-promotion policy. However, I then found if customers essentially did the advertising for me, I saved money and got far more leads.
I've used Facebook ads a couple time and lost money in the end.
What's next
I plan to going door to door once school ends. I did a door-to-door pest control sales job last summer and knocked 16,000 doors, so I have some decent experience selling. I've tried hiring a friend to sharpen while I was gone at school but he was lazy and I had customers complain so he got the cut.