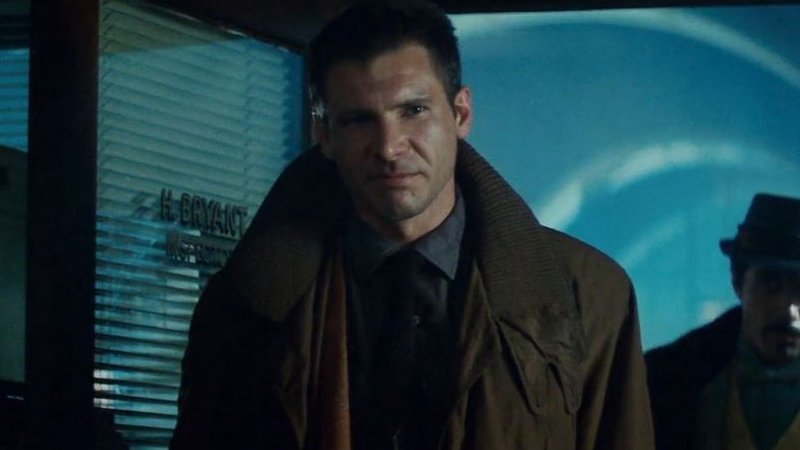 In the Theatrical cut the answer is left ambiguous. In the Director's and Final cuts the answer is definitely yes. In the Theatrical cut most widely seen in the US there are still hints that Deckard might be a replicant which include:
The fact that there is no mention of, or questions asked about, Deckard's life during the period between his (alleged) previous stint as a police officer and the events of the film. The only exception being the mention of a failed marriage early in the film.

The fact that in all versions of the film, Gaff's first line translates to "You are the blade, blade runner". the fact that Deckard's flat is full of photographs, none of them recent or in color. Replicants have a taste for photographs, because it provides a tie to a non-existent past.
The (possible) ambiguity behind Bryant's threat: "If you're not a cop, you're little people" when Deckard makes a move for the door.
The scene in which Rachael asks Deckard whether or not he has passed the Voight-Kampff test himself, and receives no answer.
The scene in which Deckard's eyes glow (as replicants' eyes do) when he tells Rachael that he wouldn't go after her, "but someone would".
The fact that Deckard lets his attraction to Rachael get the better of him despite knowing that she is a replicant.
The fact that he endures beatings from three different androids of superhuman strength throughout the second half of the film, without any visible impairment on his reasoning skills, physical fitness or overall health.
The fact that Roy knew Deckard's name, yet was never told about it before.
The scene in which he uses a metal pipe to beat, and visibly hurt, a replicant who had just effortlessly opened a hole in a wall with his bare head.
His ability to climb to the roof of the Bradbury Building in a short amount of time with two broken fingers.
The fact that Gaff seems to know what Deckard is thinking all the time, as illustrated by his origami figures, a chicken when he knows that Deckard is scared, a stick man with a boner when he is about to meet the smoking hot Rachael, and of course the unicorn at the end, showing that Gaff has specific knowledge of Deckard's recurring dream.
The fact that Gaff, who had shown no sympathy for Deckard throughout the film, tells him "You've done a man's job, sir!" after Roy expires, lets Rachael live and does not intervene when she and Deckard leave his apartment.
In the Director's cut the answer is absolutely yes that Deckard is a replicant. The scene of Gaff and the origami unicorn does not allow for any other interpretation other than Deckard is a replicant.
Ridley Scott- has stated in an 2002 interview that he was a replicant
Hampton Francher (original screenwriter) – During a discussion panel with Ridley Scott for Blade Runner: The Final Cut he cuts Scott off during the replicant talk saying "Ridley's off, he's totally wrong!" and that "[Scott's] idea is too complex" and prefers the film to remain ambiguous saying "So the question [is Deckard a replicant] has to be an eternal question. It doesn't have an answer, and what I always say about that is what Pound says: 'Art that remains news is art in which the question 'what does it mean" has no correct answer. I like asking the question [about Deckard] and I like it to be asked but I think it's nonsense to answer it…that's not interesting to me.
Harrison Ford – considers Deckard to be human, saying "that was the main area of contention between Ridley and myself at the time. I thought the audience deserved one human being on the screen that they could establish an emotional relationship with. I thought I had won ' agreement to that, but in fact I think he had a little reservation about that. I think he really wanted to have it both ways."
Philip K. Dick (author of Do Androids Dream of Electric Sheep, the book the film is based on) – he wrote the original role of Deckard as a human. "The purpose of this story as I saw it was that in his job of hunting and killing these replicants, Deckard becomes progressively dehumanized. At the same time, the replicants are being perceived as becoming more human. Finally, Deckard must question what he is doing, and really what is the essential difference between him and them? And, to take it one step further, who is he if there is no real difference?"