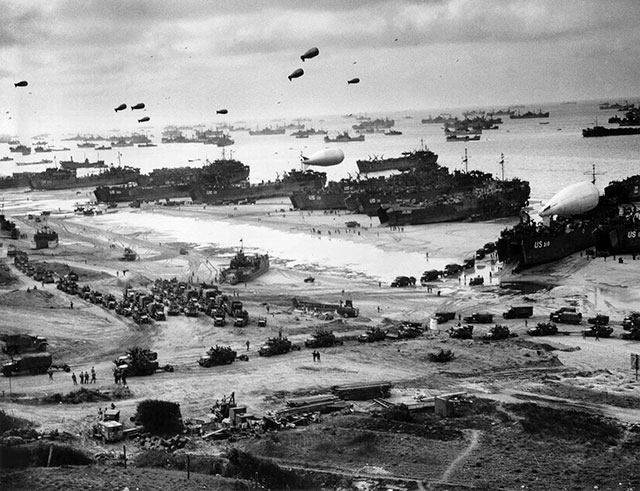 The picture that shows the colossal scale of the D-Day operation, 1944
This photograph was taken three days after the Normandy beachhead was established, on June 9th, 1944, and shows the colossal scale of the operation to transport men and material for the liberation of Europe.
The landing ships are putting cargo ashore on Omaha beach, taking advantage of the low tide. Among identifiable ships present are LST-532 (in the center of the view); USS LST-262 (3rd LST from right); USS LST-310 (2nd LST from right); USS LST-533 (partially visible at far right); and USS LST-524. The LST-262 was one of 10 Coast Guard-manned LSTs that participated in the invasion of Normandy.
Note barrage balloons overhead and army "half-track" convoy forming up on the beach. These balloons were tethered with metal cables and were intended to defend against dive bombers flying at heights up to 5,000 feet (1,500 m), forcing them to fly higher and into the range of concentrated anti-aircraft fire or make the aircraft collide with the cables. Some examples carried small explosive charges that would be pulled up against the aircraft to ensure its destruction.
The D-Day landing operation was the largest single-day amphibious invasion of all time, with 160,000 troops, 195,700 naval and merchant navy personnel and 5,000 ships being transplanted from the other side of the English Channel.
Large concrete blocks, nicknamed Mulberry harbors, were sailed across the channel and used as portable docks. The landings took place along a 50-mile (80 km) stretch of the Normandy coast between Caen and Valognes, divided into five sectors: Utah, Omaha, Gold, Juno and Sword. The fighting on D-Day was so fierce that even today as much as 4% of the sand on Normandy beaches is magnetic shrapnel that has been broken down over the decades into sand-sized chunks.