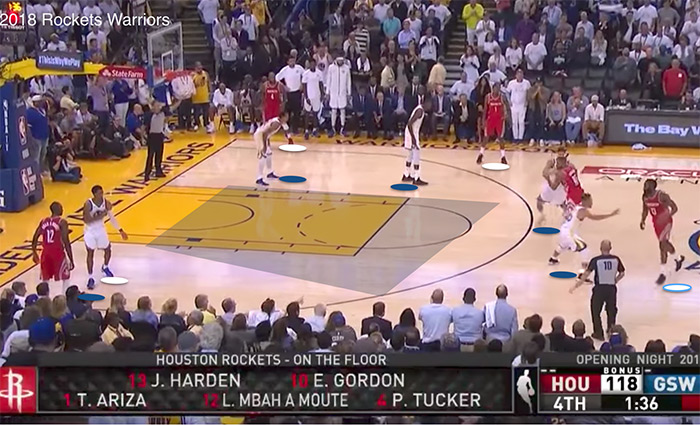 Good floor spacing means those teams have shooters who can shoot the 3 very well forcing defenders to stick closer to them and further away from the paint/rim
It does not necessarily mean shooting above league average from three; volume is just as important as percentage. If a player shoots well from three but only manages 1-2 attempts per game despite being always wide open they are not a floor spacer.
Rajon Rondo is an example of this. Also doesn't have to be restricted to 3PT shooting if it concerns big men; Nikola Jokic is a top notch floor spacer.
Good spacing makes it difficult for defenders to play help defense.
If players on offense are bunched up, physically close to each other, the defender can stay with his man and be ready to help to play defense on another player.
If players are spread out, spaced, then the defender will have to move a farther distance to be in a help position.
This is just the beginning though.
Good spacing will open up every part of the offensive game.
It will make passing easier as the more the defense is stretched out, the more passing lanes there will be.
It will make crashing the boards easier because if the defense is stretched out by proper spacing there will be more lanes to crash instead of a bunch of players in the lane.
It even makes one on one dribbling easier because you know there is less of a threat of help defense.