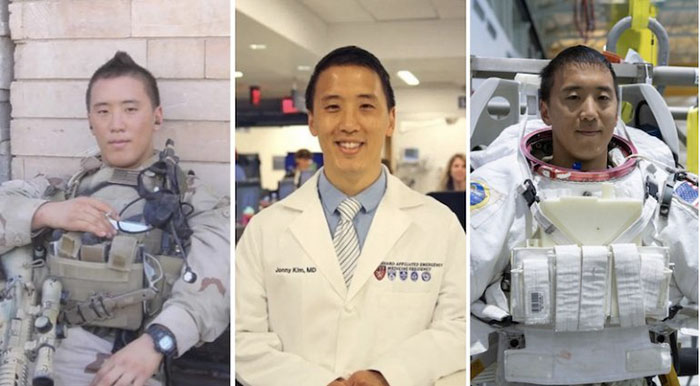 Jonny Kim – Former Navy SEAL (ST3 combat medic/sniper/navigator/point man), Bachelor of Mathematics (summa cum laude), Physician (Harvard Medical School) and Class 2017 NASA astronaut candidate
Education:
Graduated from Santa Monica High School in Santa Monica, California, 2002. Earned a Bachelor's degree in Mathematics, summa cum laude from the University of San Diego, 2012. Earned a Doctorate of Medicine from Harvard Medical School, 2016. Served his medical internship at the Harvard Affiliated Emergency Medicine Residency at Massachusetts General Hospital and Brigham and Women's Hospital in Boston, Massachusetts, 2017.
Experience:
Kim enlisted in the Navy as a Seaman recruit following graduation from Santa Monica High School in 2002. After completion of training at Naval Special Warfare, he was assigned as a Special Warfare Operator to SEAL Team THREE in San Diego, California. He served as a combat medic, sniper, navigator and point man on more than 100 combat operations spanning two deployments to the Middle East before accepting the Navy's commissioning program in 2009. Kim was commissioned through the Naval Reserve Officers Training Corps (NROTC) into the Medical Corps following graduation from the University of San Diego in 2012. At the time of his selection in June 2017, Kim was a resident physician in emergency medicine with Partners Healthcare at Massachusetts General Hospital.
NASA Experience:
Kim will report for duty in August 2017 to begin two years of training as an Astronaut Candidate. Upon completion, he will be assigned technical duties in the Astronaut Office while he awaits a flight assignment.
Awards/Honors:
Military decorations include Silver Star Medal; Bronze Star Medal with Combat "V"; Navy and Marine Corps Commendation Medal with Combat "V"; and various other service awards. Special Operations Medical Association 2006 Naval Special Warfare Medic of the Year; 2012 Tillman Scholar.
Related: Jocko Podcast 221 – Jonny Kim. Navy SEAL, Doctor, Astronaut. The Unimaginable Path.