Richard Louis Proenneke was an American self-educated naturalist, conservationist, writer, and wildlife photographer who, from the age of about 51, lived alone for nearly thirty years (1969–1999) in the mountains of Alaska in a log cabin that he constructed by hand near the shore of Twin Lakes.
On May 21, 1968, Proenneke arrived at his new place of retirement at Twin Lakes, Alaska
Proenneke's cabin is handmade and is notable for its fine craftsmanship as a result of his carpentry and woodworking skills; he also made 8mm films covering its construction.
Most of the structure and the furnishings are made from materials in and around the site, from the gravel taken from the lake bed to create the cabin's base, to the trees he selected, cut down, and then hand-cut with interlocking joints to create the walls and roof rafter framing.
The fireplace and flue were made from stones he dug from around the site and mortared in place to create the chimney and hearth.
He used metal containers for food storage: one U.S. gallon (3.8 L) cans were cut into basin shapes and buried below the frost line. This ensured that fruit and perishables could be stored for prolonged periods in the cool earth yet still be accessible when the winter months froze the ground above them.
Proenneke's friend, bush pilot and missionary Leon Reid "Babe" Alsworth, returned periodically by seaplane or ski-plane to bring mail, food and orders that Proenneke placed through him to Sears.
Proenneke remained at Twin Lakes for the next sixteen months, after which he briefly visited home to visit relatives and secure more supplies.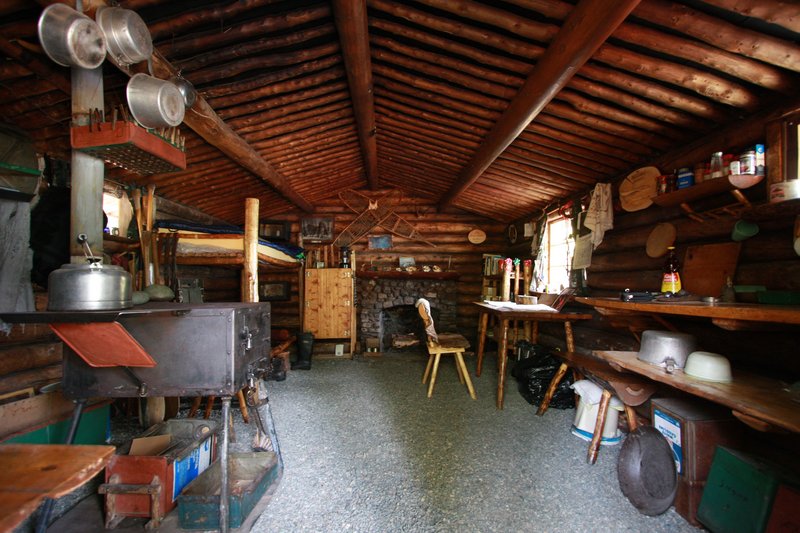 He returned to Twin Lakes the following spring and remained there for most of the next thirty years, traveling to the contiguous United States only occasionally to visit his family.
He made a film record of his solitary life which was later re-edited and made into the documentary Alone in the Wilderness.
Proenneke's cabin was added to the National Register of Historic Places in 2007.
The site is a popular attraction for many who want to personally experience parts of Proenneke's life and values.