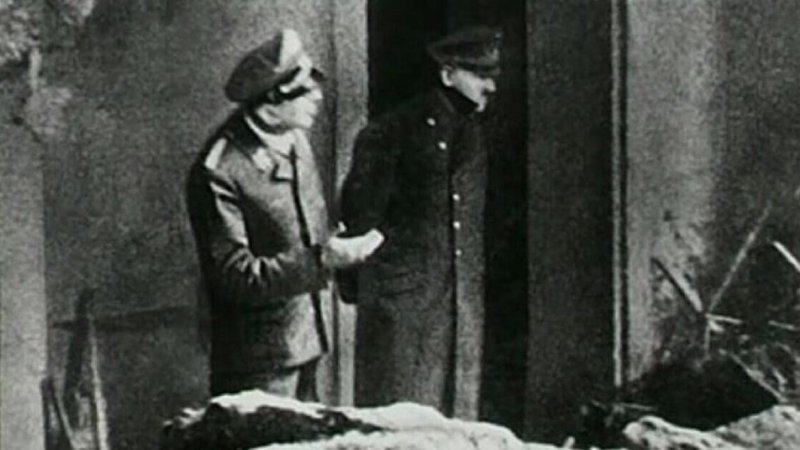 In late April 1945, chaos reigned in Berlin. Years of war had turned former superpower Germany into a battleground, and its cities from strongholds into places under siege. The Red Army had completely circled the city, which now called on elderly men, police, and even children to defend it. But though a battle raged on in the streets, the war was already lost. Adolf Hitler's time was almost up.
The people of Germany had already taken leave of their Führer. Since a public appearance on his birthday, April 20, he had been disconcertingly absent from the public eye. In reality, he was holed up in a bunker near the Brandenburg Gate in the heart of Berlin, surrounded by his command staff and a few private citizens, including his mistress Eva Braun.
For weeks, bad news drifted into Hitler's hideaway. As American forces advanced from the west, and the relentless Soviet tanks from the east, Hitler's generals began to lose their heads. Suspicious of a coup by his closest advisors, Hitler raged and planned and raged again. When he learned that Felix Steiner, one of his SS commanders, had ignored his orders to stage a heroic last stand south of the city, he began to rant and cry, declaring the war lost. Later that day, he consulted with Werner Haase, his private doctor, about the best ways to commit suicide.
By April 29, the situation had taken a turn for the worse. Though Hitler married Eva Braun that morning, people were more interested in discussing suicide than celebrating a wedding.
Hitler had learned that Heinrich Himmler, leader of the SS, had given the Allies an offer of immediate surrender—an offer they promptly refused. Outraged, Hitler demanded that Himmler—once his close and powerful compatriot—be arrested.
Then Hitler heard of the death of Benito Mussolini, his counterpart in Italy. Executed and defiled by an angry mob, the dictator's end was a powerful warning about what might be in store for the man who had promised his now-devastated country an endless empire. Mussolini's death set the last 24 hours of life in the bunker into motion.
APRIL 30, 1945
All times are approximate
1 a.m.: Field Marshal William Keitel reports that the entire Ninth Army is encircled and that reinforcements will not be able to reach Berlin.
4 a.m.: Major Otto Günsche heads for the bathroom, only to find Dr. Haase and Hitler's dog handler, Fritz Tornow, feeding cyanide pills to Hitler's beloved German Shepherd, Blondi. Haase is apparently testing the efficacy of the cyanide pills that Hitler's former ally Himmler had provided him. The capsule works and the dog dies almost immediately.
10:30 a.m.: Hitler meets with General Helmuth Weidling, who tells him that the end is near. Russians are attacking the nearby Reichstag. Weidling asks what to do when troops run out of ammunition. Hitler responds that he'll never surrender Berlin, so Weidling asks for permission to allow his troops to break out of the city as long as their intention never to surrender remains clear.
2:00 p.m.: Hitler and the women of the bunker—Eva Braun, Traudl Junge, and other secretaries—sit down for lunch. Hitler promises them that he'll give them vials of cyanide if they wish to use them. He apologizes for being unable to give them a better farewell present.
3:30 p.m.: Roused by the sound of a loud gunshot, Heinz Linge, who has served as Hitler's valet for a decade, opens the door to the study. The smell of burnt almonds—a harbinger of cyanide—wafts through the door. Braun and Hitler sit side by side. They are both dead. Braun has apparently taken the cyanide, while Hitler has done the deed with his Walther pistol.
4:00 p.m.: Linge and the other residents of the bunker wrap the bodies in blankets and carry them upstairs to the garden. As shells fall, they douse the bodies in gas. Joseph Goebbels, minister of propaganda, will kill himself tomorrow. Meanwhile, he holds out a box of matches. The survivors fumble and finally light the corpses on fire. They head down to the bunker as they burn.
On May 1, Germans who can find time between shells to listen to the radio are greeted with the tones of Wagner's Götterdämmerung—"The Twilight of the Gods." Hitler, they are told, has "fallen at his command post in the Reich Chancery fighting to the last breath against Bolshevism and for Germany." The Führer is dead.