This is a photo of the students at Carlisle Indian Industrial School in Pennsylvania, c. 1900.
The school was established in 1879 in order to forcibly assimilate Indigenous children into western society by stripping them of their native language, culture, traditions, and clothing. Physical, emotional and sexual abuse were rampant as was forced labor in these schools.
Throughout the 19th and 20th centuries, these boarding schools not only operated in the U.S., but also in Canada and Australia. In Canada alone, upwards of 6,000 children died while attending these schools; one death ocurred for every 25 students.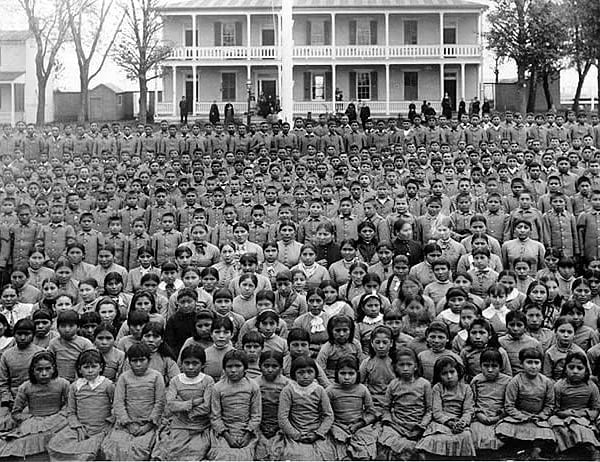 George Manuel, a Canadian Aboriginal leader, attended one of these schools and recalls that "Every Indian student smelled of hunger." The students were also confined to crowded and unsanitary dormitories, which exposed them to diseases such as influenza, measles and tuberculosis.
Most recently, the bodies of 215 Indigenous children were unearthed at Kamloops Indian Residential School in Canada. These were undocumented deaths and their bodies were buried in unmarked graves. Their cause of death is currently under investigation.
The Kamloops Indian Residential School remained in operation until 1977. The last federally operated boarding school for Indigenous children in Canada closed in 1996.