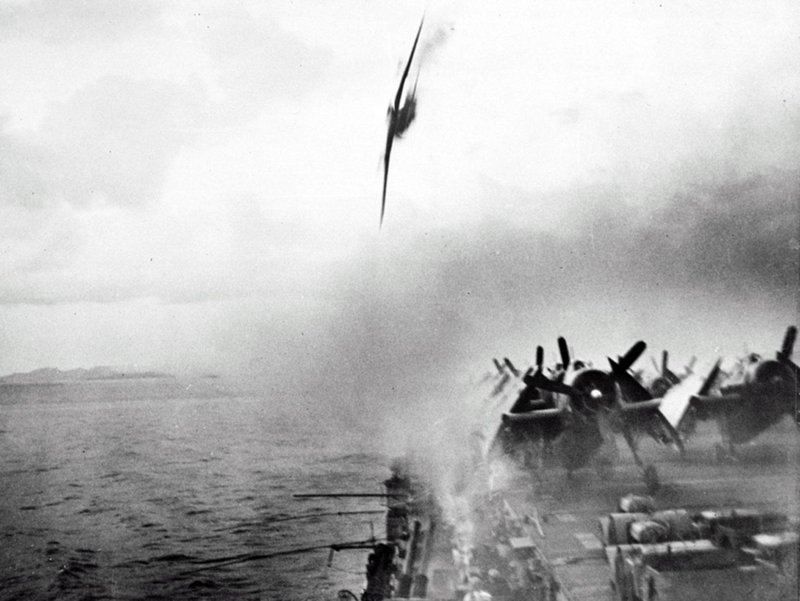 By 1944 suicide attacks had become de facto conventional air attacks for most Japanese pilots attacking American naval task forces.
For example, the Battle of the Philippine Sea justly earned the nickname the "Marianas Turkey Shoot" because the Japanese air units lost over five-hundred aircraft attacking the US fleet with only minor damage to the USS South Dakota to show for their efforts.
The reason for this lopsided tallies stemmed from several causes.
Although Japanese aircraft had a rough qualitative parity with American aircraft at the start of the war, the Japanese had lost whatever technological edge they had possessed by 1943.
Newer models of Japanese aircraft often had unresolved technical faults as they were rushed into production and decline in material meant a loss of quality control.
Nor were Japanese pilots and aircrew as an elite corps as they once were.
The Japanese only belatedly expanded their training regimen and fuel shortages further cut into their replacement pilot cadres desperately needed after the attritional battles over the Solomon Islands and New Guinea.
In contrast, American training programs had hit their stride by 1943 and there were no shortages of American pilots.
Moreover, the American fleet had greatly improved its air defense network over the course of 1942-43 with radar networks, proximity fuses, and a CAP doctrine that made conventional Japanese air attacks a highly risky proposition.
It should also be noted that American air defense adapted to the Kamikaze threat quite quickly after the initial surprises.
The American task forces beefed up their fighter wings and expanded their radar picket lines to gain advance warning of a Tokkō attack wave.
The use of lesser-trained pilots also played a role in diminishing the effectiveness of suicide attacks.
Counter-intuitively, the best means of hitting a target like a ship is not to gun at the throttle at full speed. This creates lift and the tendency of the aircraft is to go up.
Thus many Tokkō that broke through the CAP and AA often floated over their target or hit it obliquely.
Although much newsreel footage of the kamikazes has been edited postwar to emphasize dramatic hits, like the one on USS Essex
If you look carefully, it is not uncommon to see Japanese aircraft overshoot or struggle with their terminal dives, such as in this footage from USS Yorktown