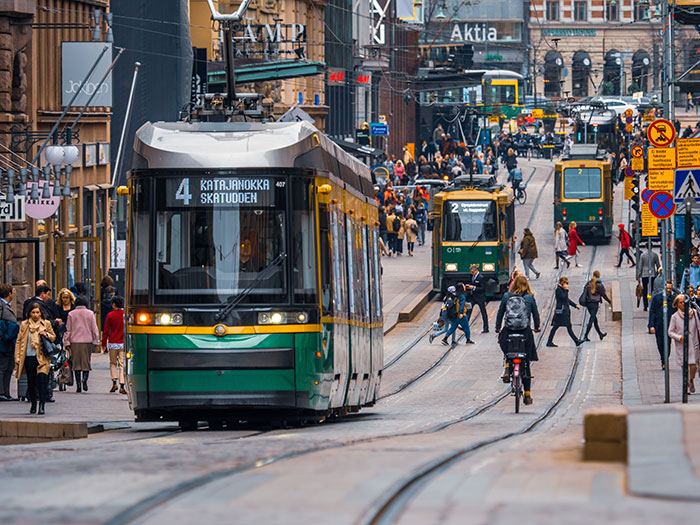 1. In Finland, things just simply work, promises are kept, life can be planned ahead and people keep their distance. It's perfect. The darkness before the snow comes is pretty depressing, but it's the cost of not having that many people around, and I'm willing to pay.
I'm not exactly a world traveler (and won't be until they come up with carbon neutral airplanes) but from what I've seen, the only places I would live in besides Finland is Sweden or Norway. And even then I'm pretty sure I wouldn't fit in as well as I do in Finland.
When I have gone south, the absence of forests somehow beats me down. Then I see the society and all the things that are better in the Nordics.
In Finland, even the poorest live in better conditions than I did when I was a child, and my childhood wasn't bad at all, at least terms of being fed, clothed, kept warm and dry or gadgeted.
You just need to go to Germany and see street prostitutes, people living in very bad conditions, doing work but not making enough for food, and bad infrastructure.
I visited Spain two years ago, and oh dear. Not a single elevator in the metro stations of Barcelona was working, so any disabled or stroller pushing people were denied of public transportation. A lot of people were living on the streets, and I didn't even have to see the living and working conditions of the immigrants in the fruit farms. And this was inside the relative safety and living standards of EU – I'm not even going to talk about what I saw in Thailand or Russia.
The rich have it good everywhere. With money, you can afford what the state doesn't supply, be it housing, medical care, mobility, security, whatever.
But in Finland, even the rich use public medical care, because it's that good. People leave their houses unlocked, because there are so little desperate people to burglar around. There isn't a real class society (yet). We take so good care of our poor, that we can afford the luxury of not fearing each other. I feel bad looking at human suffering or environmental damage, and that is a big reason for me not to travel.
I haven't looked at how they measured the happiness rating, but my guess is that because Finland takes care of everybody, a bigger portion of the people are happy, not just the rich.
We still have poverty, and even though the relative conditions our our poor are better than.. anywhere else really, they still feel unhappiness because they feel shunned upon and disconnected from society. This can be worked on, however, and it's much easier to make people feel accepted and connected when the problem of organizing running water, heat and electricity has been solved half a century ago.
2. I find living in Finland quite peaceful and safe. Some may regard it also boring and lame (some comments I've read), but to me Finland means the life where I don't have to worry for my life in the very basic level. This society won't let anybody starve or freeze.
Finland is estimated to be the most stable country in the world. To me it tells that we have done something right, despite our current economic problems.
This is a society where everything is negotiated, different parties can express their views and the power is balanced so that any party can't dominate the political field. Politicians are used to compromise with their adversaries. That's why the Finnish politics may seem a bunch of horse trading. Always when you get something you must give something.
This prevents sudden changes in the society, causing as well stability as rigidity.
I think that most Finns like to live a pretty peaceful and quiet life. We are not a nation of big dramas either in politics or personal life. And this is probably what some regard boring.
I think that this is one of the middle-class societies: we put an effort to raise poorer people to the middle-class and since a big part of it is funded by the proggressive taxation, our filthy rich elite is quite small – and I guess they are not very rich in the international comparison.
3. As far as living in Finland, it all depends on which part. Northern Finland(Lapland) is dark and cold in winter, but it does have it's beauty with the Northern Lights and the landscape. Avoid Kemi, depressing town. The more south you go the less long dark winters. I loved Vaasa, and I love Espoo too.
From an American ex pat perspective there are differences. Typical apartment bathrooms do not come with bath tubs, and there is nothing to separate the shower floor from the rest of the bathroom so you have to sweep the water to the drain. If you have a shower closet, those are quite small for the avg American. Everything is in smaller scale here. If you are over 6 foot tall the beds can be a problem.. Public laundrymats are unheard of. I know one place in Helsinki that is coin operated. Most apartment blocks have their own laundry rooms, and almost all apartments have hook ups for washers in the bathrooms. About 50% of apartments have clothes dryers. We are lucky that the owner included a washer dryer tower in our unit.
Mass transportation here in the metro area is excellent. You can get almost anywhere in minutes. It will be even more so once the metro extension to Matinkylä is completed. Our shops close at early hours, very rare to find markets or pharmacies open 24 hours. I can think of one or two in Helsinki.
Crime is very low. I feel very safe walking around at night time here. Because of the dark winters it is common to be out at night. There is a growing international presence in Finland. Because of the educated populace many companies are moving here to take advantage of the talented and skilled work force.
Learning Finnish is very hard. For native English speakers it is especially challenging. At some point it is good also to know Swedish because it is one of the official languages. Mainly in cities such as Vaasa, and parts of Espoo. Next year I will begin to tackle Swedish.
Ice hockey is HUGE here. Also a sport called salibandy (floorball). track and field is big. Finland is into fitness, but we do have our share of couch potatoes. Finland is one of the top consumers of coffee and also milk.
Finland has a very good social system, but our taxes are very high. Finland is one of the least, if not THE least corrupt nation in the planet. You can not run a social system successfully if you are corrupt. Also the success of our social system is due in part because Finland is a small country. The way we do things here is just not scale-able to a country of over 300 million.
4. Finland is well organised. Everything works, new technologies are used to the full and schedules are taken seriously.
Snow gets ploughed on streets and airports during the night for buses and planes to keep to the timetables in the morning, EU regulations are meticulously applied and officials can be trusted.
Maternity leave topped with the annual four weeks' holiday adds up to eleven months, which can be divided between both parents and you can stay at home taking care of the baby till its third birthday and prefering to return to work or to study you are guaranteed a daycare place for the child.
Because of the relatively new independence ( Finland will turn 100 next year) Finns are patriotic and quite supportive of the national defence. The whole age class takes part in military service, women voluntarily.
Finns are work-oriented and even though not spending as many hours working (theoretically 37.5 hours/week), they are efficient and concientious.
To set the balance, they use about the same amount of alcohol as their fellow Europeans, but have their weekly dose concentrated to the weekend often with the aim of getting drunk.
The labour day, which is celebrated on 1st May together with the students' Vappu celebration of the beginning of the summer season and use of the white student cap is a very wet party taking place on the streets and parks of the University cities.
A very different, although hardly drier celebration is Juhannus, Midsummer, around the 24th June, when cities are deserted and the longest day of the year is spent in the summer cottages grilling sausage and taking a plunge in one of the 187 888 lakes after sauna.
Drunkenness is not considered a social embarassment. Alcohol (over 6 %) is a state monopoly only sold in Alko stores to majors (>18). Nevertheless also teens drink alot.
Finns feel emotional about sports and are among the best sport audiences, turning up in crowds, which has together with the organizational capacities won Finland the management of many international championships. Not enthusiastic about football,which they are notoriously bad at, but field sports ( long distance, javelin), ice hockey and the motorsports.
The arts, theatre and opera are considerably less popular and favored mainly by the women. The construction of the new opera house of Helsinki was strongly opposed in the 1980's as expensive and elitistic, even though Finland has produced a proportionally high amount of top conductors (Berglund, Salonen, Oramo, Saraste, Mälkki) and very good contemporary composers ( Sallinen, Kokkonen, Rautavaara, Lindberg, Saariaho).
5. This is the common man's version of what's it like…
Just yesterday, I went to a river near my house, took a dip in freezing cold water and went under the sun. In a few minutes, I was dry like new.
Summers are amazing in Finland. Short but amazing. The other day, I took a 5 Euro rent a cycle and completed the entire stretch surrounding the lake near by. And then took a nap under the trees. It was beautiful, absolutely beautiful.
Getting on to a healthy life style here is easy. There are walking and cycling paths everywhere. You can walk how much ever you want, any time any day, no one to bother. Some times I just take a bus to a distant place and walk all the way back. It's fun.
Finland is not "touristy" kind of beauty. It will not just amaze you the moment you enter it. It's grows onto you. After a few days of living, you will start enjoying the "not-so-flashy" things like the fresh fruit markets, the open air concerts, the bicycle rides, a nap in the park, international sports events, beer and food festivals.
In a way, Finland made me feel more connected to nature. You can run in the forest whenever you want. You can swim in the lake. You can go for fishing. Most of times you will see families spending time with their kids, pets, listening to live music, playing guitar, going for a walk – having a great time with simple things in life.
Many times, I feel like I live in a big village. A few weeks before, me and my wife were coming back to our home quite after midnight. We just chose a spot on the way and were talking for few hours. At no point we felt threatened or scared. We were just talking as if it's in our courtyard.
Many of the people usually focus on the Winters of Finland. Yes, winters are cold, it can be depressing. But the summers make it worth while.
Once it snows, even winters can be fun. You can go for saunas, ice swimming or a walk on the lake (yes on the lake!)
If you have never been to Finland, plan for a month's stay in smaller cities like Tampere during summer. You will not regret it.