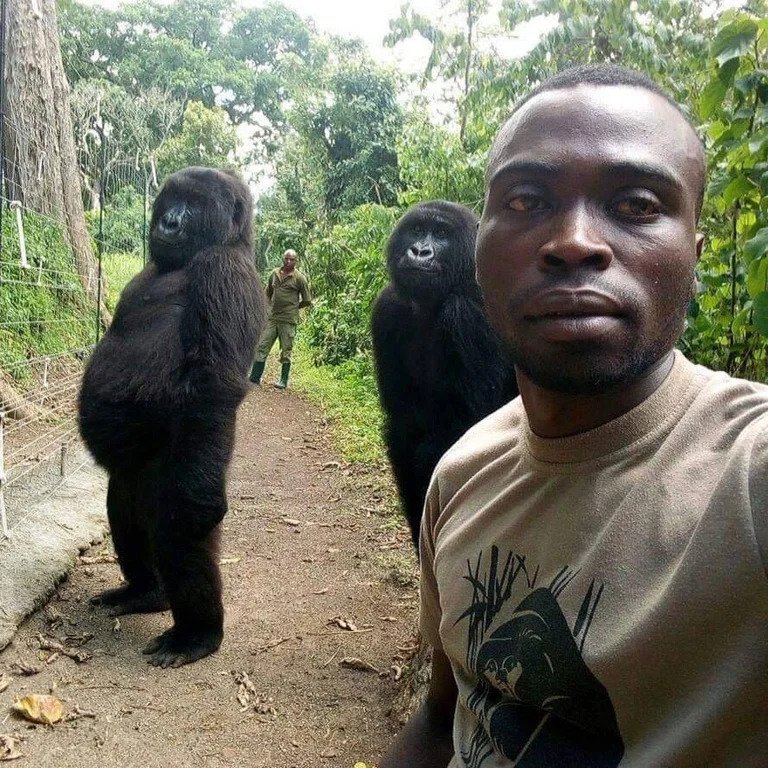 Park ranger takes a selfie with the orphaned gorillas Nkakazi and Ndeze
The image was taken at a gorilla orphanage in Virunga National Park, DR Congo, where the animals were raised after poachers killed their parents.
The gorillas were just two and four months old at the time.
Because they've grown up with the rangers who rescued them, Mr Mburanumwe added, "they are imitating the humans" – and standing on two legs is their way of "learning to be human beings".
The caretakers at the orphanage try to give the animals as much access as possible to their natural environment, but they inevitably exhibit "almost the same behaviour as humans".
They need constant care, so the rangers live nearby and spend their days feeding them, playing with them and keeping them company.
"Gorilla caretakers with those gorilla orphans, we are the same family," said Andre Bauma, the head caretaker. "They know we are their mum. They are a member of the family. We are their friends."
Virunga, Africa's oldest national park, is home to a rare population of about 1,000 mountain gorillas, but its location in eastern DRC means they and the rangers who protect and care for them are constantly at risk. Poaching, illegal charcoal smuggling and the threat of Mai-Mai militias are some of the threats to their survival.