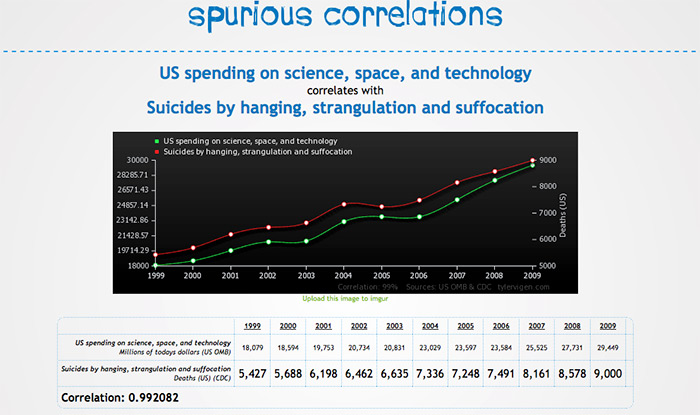 Correlation means that two things seem to have a connection or a pattern. All that has to exist for a correlation is to note that if we track how two or more things change over time, it seems like they change in a related way. So any graph that shows A and B both increasing shows a correlation between A and B, especially if at times when A decreases B also decreases.
Causation means we can prove if one thing happens, it makes the other thing happen. We don't need a graph or data analysis for causation, sometimes we can reason it out.
Let's talk about some examples, then discuss why correlation is not causation.
We can graph "number of people wearing short sleeves" and "temperature" next to each other. We'll probably notice that above a certain temperature, more people wear short sleeves. That's definitely a correlation. Then we ask if there's a causation, and in this case there is: in warmer weather people want to wear cooler clothing so more people wear short sleeves.
Here's another one: kids eat more ice cream in the summer than in other months. And, kids are more likely to drown in the summer. You could look at these facts and say: wow, ice cream must cause drownings! When in fact, we know ice cream sales go up in the summer, and pool usage goes up in the summer. They aren't really related, but if you just look at the data you might assume they are.
The reason this matters is dishonest people try to imply causation in order to sway people into making bad decisions that are good for the dishonest people.
An important thing that a lot of people ignore is that correlation is still useful! If the variables were highly correlated then you would be able to make predictions about drownings based on ice cream sales!
BUT you would not be able to prevent drownings by banning ice-cream sales because it is not a causal relationship.
A good historical example of this is with polio in the US. People noticed rates for polio, especially in children, would go up massively in the summer. As did ice cream sales!
So there was a point in time where people actually thought that consumption of ice cream/sugar actually caused/contributed to getting polio. So for a time, people were advised not to give their kids ice cream.
We know this isn't the case though. So that's saying how correlation is not causation.