Life
July 20, 2018 | No Comments » | Topics: Life |
July 20, 2018 | No Comments » | Topics: Life |
Dog Has The Best Reaction Ever To Getting A New Puppy
July 20, 2018 | No Comments » | Topics: Life |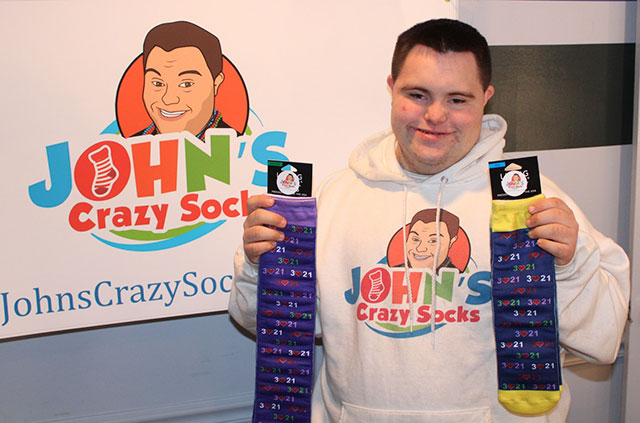 Just because someone has a disability, you should never ever underestimate their abilities. John Lee Cronin, a young man with Down syndrome, turned his love of colorful and fun socks into a multi million dollar empire out of New York.
When John began his last year of high school in 2016, he began to investigate his options for what to do next. Born with Down Syndrome, John did not like any of the options open to him. He turned to his dad, Mark Cronin, and told him that he wanted to go into business with him.
John loves crazy socks, he loves making people smile, and it was clear from the start what this business would be. Combining his two biggest passions, John, and his father, they founded John's Crazy Socks. This online social enterprise is spreading happiness in the world through socks. They currently offer over 1,900 different socks, as well as a sock of the month club, gift bags, and gift boxes. "We'd like to say that we're the world's largest sock store," says Mark, "John is the chief happiness officer, the face of the business and the inspiration."
(more…)
July 17, 2018 | No Comments » | Topics: Life |
Many kids in Baarali village in Udupi, India drop out of school due to the nearly 2-mile trek through forest to reach the school.
So, one of the school's teachers bought a bus and now drives the kids to and from school to ensure they get a good education.
"There are no roads from the houses of the children to the school. There is a mud path through the forest and most of the girl students began dropping out as their families were scared of allowing their children to walk for a total of 6 km to and from school," said Rajaram, the science and math teacher at Baarali Government Higher Primary School.
"Every week at least five to six students were not turning up. I called up one of our former students – Vijay Hegde and proposed the idea of buying a bus to pick up and drop the children," Rajaram said.
About six months ago, Hegde, another alumna of the school and Rajaram pooled in money and bought a bus for the school.
Rajaram could not afford to pay a bus driver, so he decided to drive the bus himself.
July 17, 2018 | No Comments » | Topics: Life |
Kitten was found on the verge of death on the streets, but was rescued and now has a loving family.
July 17, 2018 | No Comments » | Topics: Life |
Walter Carr's vehicle broke down the night before he was supposed to start a new job with a moving company, but he didn't panic. Instead, he set out on foot and walked more than 20 miles in the middle of the night to ensure he arrived on time.
Walter walked at least 14 miles before police picked him up at 4 a.m. Once they learned his story, they took him to breakfast and then gave him a ride the rest of the way to the home of the Lamey family, who he was scheduled to help move that morning.
Jenny Hayden Lamey shared the rest of the story on Facebook:
July 13, 2018 | No Comments » | Topics: Life |
I graduated High School this week. When my Dad said he had a present for me I thought I was getting some cheesy graduation card. But what I received was something truly priceless. Following the ceremony he handed me a bag with a copy of "Oh the Places You'll Go," by Doctor Seuss inside. At first I just smiled and said that it meant a lot and that I loved that book. But then he told me "No, open it up." …On the first page I see a short paragraph written by none other than my kindergarten teacher. I start tearing up but I'm still confused. He tells me "Every year, for the past 13 years, since the day you started kindergarten I've gotten every teacher, coach, and principal to write a little something about you inside this book." He managed to keep this book a secret for 13 years, and apparently everyone else in my life knew about it! Yes the intended effect occured… I burst out in tears. Sitting there reading through this book there are encouraging and sweet words from every teacher I love and remember through my years in this small town. My early teachers mention my "Pigtails and giggles," while my high school teachers mention my "Wit and sharp thinking.." But they all mention my humor and love for life. It is astounding to receive something this moving, touching, nostalgic, and thoughtful. I can't express how much I love my Dad for this labor of love.
July 13, 2018 | No Comments » | Topics: Life |
Sea lion being released, stops to make sure his buddy's with him.
July 13, 2018 | No Comments » | Topics: Life |
July 6, 2018 | No Comments » | Topics: Life |
'I'm walking!' Four-year-old girl with cerebral palsy takes first steps