November 13, 2019 | No Comments » | Topics: Links |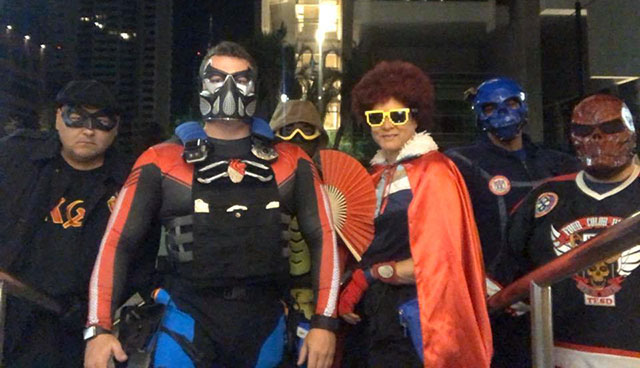 Fighting Crime With San Diego's Real-Life Superhero Squad – Mel Magazine
These Service Dogs Spent a Day at Disneyland and the Photos Are Adorable – Ned Hardy
The hottest photos of the day – Caveman Afterdark
This thing make sitting in a chair for 8 hours a day bearable – Amazon
Meet the Woman Teaching 'Financial Domination' to the Masses – Rolling Stone
The 5 college majors American students most regret picking – CNBC
The essential comparison guide to every streaming service – Polygon
Samuel Adams 'Extreme Barrel-Aged' Beer Is Illegal in 15 States – Maxim
American Boy Throws Message In A Bottle Into The Ocean, 9 Years Later Gets A Reply From France – Ruin My Week
The Best Selling Video Game Consoles 1977 – 2019 – Epic Pix
Bob Lazar Says the FBI Raided Him to Seize Area 51's Alien Fuel. The Truth Is Weirder – Motherboard
Best dog bed out there. Provides excellent orthopedic support for older dogs with achy joints – Amazon
15 Anal Sex Tips That'll Convince Your GF To Actually Do It Again – Thought Catalog
Dopamine fasting is Silicon Valley's hot new trend. Is it backed by science? – VOX
Two People Just Got The Plague In China — Yes, The Black Death Plague – CNN
They wanted his car, he almost killed them – Trending Views
11 Women Describe What Semen Tastes Like to Them – Men's Health
His Girlfriend Wants to Pause Their Relationship Because Her Heroin Using Ex Died – Brass Pills
11 Joe Rogan Quotes to Help You Conquer Your Life and Be the Hero of Your Own Movie – Knowledge For Men
Moby is an animal rights advocate, and he now has giant arm tattoos to prove it – COS
CM Punk appears on WWE Backstage on FS1, reveals he'll be back next week – WWE
20% of Americans regret making this financial decision with their significant other – Make It
Top 10 TikThots of the Day – Drunken Stepfather
The 10 Best Visualizations for Understanding the U.S. Economy – How Much
Stunning photos of 27 places around the world that you should visit before they disappear forever – Insider
11 Ways Retirement Has Changed Over the Last 25 Years – Money Crashers
Please Do Not Try to Survive on an All-Meat Diet – Popular Science
November 13, 2019 | No Comments » | Topics: main |
November 13, 2019 | No Comments » | Topics: Poll Of The Day |
I have an awesome relationship with my girlfriend. We rarely argue, communicate well, and just genuinely care for each other. From the outside looking in, ourr relationship looks like it'll turn into a happy marriage, except for our sex life sucks.
She talks about how into me she is and all the sexual fantasies she wants to do, but never does any. I always have to be the one to initiate sex and she never really even touches me, doesn't do anything for me (in terms of foreplay) but I do everything for hers, for the intercourse itself, she just lies there, like she is dead. I've got pretty sick of it, I'm a very sexual person and if things aren't reciprocated I feel shit and unwanted, also sexually frustrated because I am feeling constantly unsatisfied. We have tried talking about it and she has said before that it's because she is nervous and anxious about doing something badly.
I don't know what to do because I feel very strongly about her and don't really want to break up with her due to bad sex, but she isn't even really trying,
Anyway else been in similar situations/ have any advice?
What should this guy do?
©
November 13, 2019 | No Comments » | Topics: Life Experiences |

(photo: @guoshiwushuang)
Flirting in Japan
Flirting seems like a misnomer. It's more like an absense of flirting. If you like someone in Japan, there are a couple of different ways of showing it and/or approaching them, none of which really resemble flirting in the west. 
1. Nanpa (the "pickup")
First off, only guys do nanpa; in the rare case that girls do it, it's called gyaku-nan ("reverse nanpa"), but I never heard of gyaku-nan actually happening, it always seemed like it was more of an amusing theoretical idea, rather than something girls really did. 
November 13, 2019 | No Comments » | Topics: main |
(photo: @olivia_snow)
Why do Christians believe non procreational sex is immoral?
In Christian theology, the sexual act is an icon of the Trinity and of the saving relationship between Jesus and the Church.
It is an icon of the Trinity because God is a communion of persons, who all completely give of their entire selves to each other. The person of the Father subsumes his entire existential being and substance to beget the Son, who, composed of the same divine essence, gives back the same total self-giving love in turn to sustain the Father. This total self giving of two divine persons begets the holy Spirit, who is interpreted to be the love between the Father and Son that is shared between them.
When a man and woman marry each other, they ideally pledge their entire lives, wills, and bodies for the good of each other. Sexual intercourse unites the man and woman in their love, and through their love, they beget another person- a child- much like the love between the Father and Son begets the holy Spirit. When the procreative aspect of sex is willfully removed by the man and women, the act no longer serves as an image of the divine love because the creative power of the man and women have been withheld from each other. They haven't given their whole selves to the other.
November 13, 2019 | No Comments » | Topics: MMA |
What would you do if he grabbed your girl?
November 13, 2019 | No Comments » | Topics: Life Advice |
(photo: @steve3p_0)
Cultivate your edge.
Step in your native, original bad-assery. Sit in the center-most point of you, now.
Do you remember being 8 or 10 or 12 years old and not giving a fig about anybody or anything? Remember knowing that you're the shit, that the world truly is your inheritance and belongs to you? Remember that freedom that comes from knowing that you can do anything or go anywhere? Let's boot that program up now.
I'll explain what I mean by 'cultivate you edge'.
I'll start with cultivate.
November 12, 2019 | No Comments » | Topics: main |
Woman Adopts Dying Dog To Give Him The Happiest Final Days Ever – Ned Hardy
The hottest photos of the day – Caveman Afterdark
Behold the World's Top 10 Most Expensive New Cars – Maxim
No longer exclusive to NBA locker rooms, this device is essentially a little massage guns designed to pulverize your muscles, thereby speeding up recovery and lowering your risk of injury – Amazon
Is 'The Mandalorian' Any Good? Here's What The Reviews Say – Digg
Inside the Sale of the Record-Obliterating $31 Million Patek Philippe – GQ
'Deadspin is dead': Inside the end of one of the original sports websites as we knew it – Washington Post
Girls with perfect bodies (nsfw) – Leenks
Guy Wonders If He Was Wrong To Tell Woman At The Gym That He Can See Through Her Yoga Pants – Ruin My Week
Ebola Vaccine Approved in Europe in Landmark Moment – STAT News
On the Internet, No One Knows You're Not Rich. Except This Account – NY Times
Homeless Man Throws Bucket Of Hot Diarrhoea On Random Woman's Face – LAD Bible
Philadelphia Prosecutors Release 10 Men Wrongly Convicted Of Murder – Daily Wire
Man with no legs beats two punks who tried to sit on his wheelchair – Trending Views
Ingenious Solution To The Splatter That Sprays Your Kitchen – Amazon
A damn fine collection of booty – Phun
Instagram Model Violet Summers is Heating up Autumn – The Blemish
Everything to Know About Disney+ – Gizmodo
Can I Fill Up My Premium-Unleaded Car With Regular? – Mel Magazine
American in Thailand Crazy Rant and Other Videos of the Day – Drunken Stepfather
We Need to Knock Women Off the Social Media Pedestal – Brass Pills
Six Badass Soldiers Who Practically Lived Forever – Gunaxin
Powerful side-by-side portraits show people over 100 years old next to their younger selves – Insider
Here's How To Conquer Your Fear Of Presenting – Forbes
Selena Gomez is sexy in a swimsuit (nsfw) – Celeb J
49ers Fan Destroyed His TV After Missed Field Goal in OT – Sports Gossip
November 12, 2019 | No Comments » | Topics: main |
These things are just flat out fun to listen too. They're definitely bass heavy, but to my ear, bass doesn't sound boomy, muddled, or cartoonishly exaggerated. Bass also never seems to overshadow vocals or anything else in a song. Upper registers are nicely present, don't seem muffled to me at all, but are not in any way fatiguing or overpowering.
November 12, 2019 | No Comments » | Topics: The Dumping Grounds |