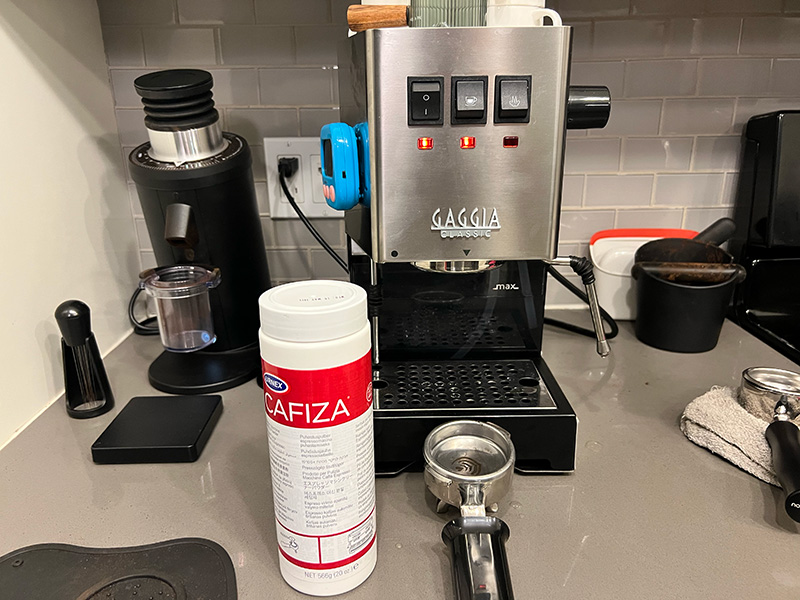 As a regular espresso drinker, keeping your equipment in top working order is essential for brewing delicious beverages day after day. This is especially true for a workhorse home espresso machine like the Gaggia Classic Pro.
While the Gaggia is a highly durable machine, regular maintenance like backflushing helps keep it operating at peak performance for years to come.
Why Backflush Your Gaggica Classic Pro?
Remove Coffee Residues: Every time you pull a shot of espresso, tiny particles of coffee and oils get left behind in the machine. Over time, these residues can build up and affect the taste of your espresso, making it bitter or off-flavor. Backflushing helps to clear out these residues, ensuring that every shot is as fresh as the first.

Prevent Clogs: The residues can also lead to clogs in the machine's intricate parts, especially in the group head and the solenoid valve. A clogged machine can lead to uneven water distribution and pressure issues, which can ruin your espresso.

Extend Machine Lifespan: Regular maintenance, including backflushing, ensures that your Gaggia Classic Pro runs efficiently. By preventing clogs and build-ups, you reduce the strain on the machine, thereby extending its lifespan.

Save on Repairs: A well-maintained machine is less likely to break down. By backflushing regularly, you can prevent potential issues and save on costly repairs in the long run.
How Often Should You Backflush Your Gaggica Classic Pro?
The frequency of backflushing depends on how often you use your Gaggia Classic Pro:
Daily Users: If you pull shots daily, it's recommended to backflush with water every day after use. This will help to clear out the immediate residues. Additionally, a more thorough backflushing with a detergent should be done once a week.

Occasional Users: If you use your machine less frequently, say a few times a week, then a water backflush after each use is still recommended. However, you can reduce the detergent backflush to once every two weeks.

Rare Users: If you only use your Gaggia Classic Pro occasionally, it's essential to backflush with water after each use and with detergent at least once a month.
Conclusion
Your Gaggia Classic Pro is an investment in quality coffee. To ensure it continues to deliver the best espresso shots, regular maintenance, including backflushing, is essential. Not only does this routine keep your coffee tasting great, but it also ensures your machine runs efficiently for years to come. So, make backflushing a regular part of your coffee ritual, and your Gaggia Classic Pro will thank you with delicious espresso every time.