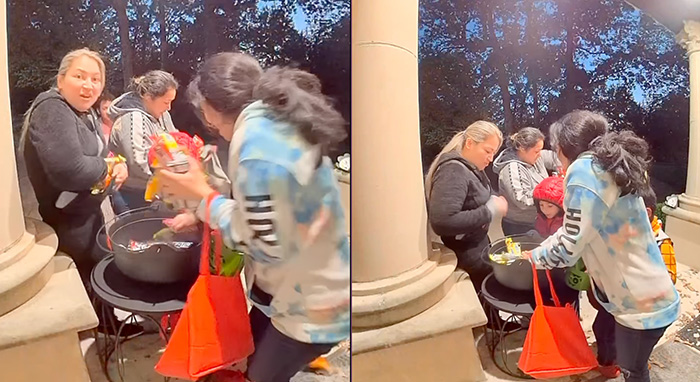 In a disheartening display of greed and poor example-setting, a viral video captured three adults and their children clearing out an entire bowl of Halloween candy from the home of Whiskey Myers guitarist Cody Tate.
The footage, which Tate shared on social media, shows the adults hastily stuffing their bags and shirts with full-size candy bars, followed by several children and teenagers who joined in the frenzy.
This incident, caught on a Nest camera and shared on Instagram, not only showcases a blatant disregard for the clear "Please take 1" sign but also serves as a live lesson in dishonesty to the young ones involved.
The video chillingly captures one of the women acknowledging the camera with a smile before continuing her spree, while a teenager checks the now-empty container, confirming the group's collective action left nothing behind for others.
While the community showed resilience and kindness, with a neighbor refilling the candy bowl, the incident sparked a debate online.
The debate that ensued online following the incident shows a divided opinion on the matter, but it's essential to consider the long-term effects of such incidents on children.
They are at a formative stage where they are learning about societal norms and values. When adults set an example that it's acceptable to take more than their share, they are potentially fostering a future generation that could perpetuate such behavior, leading to a society where communal respect and trust are eroded.
What is Integrity?
The Halloween candy incident ipresents a teachable moment about integrity and the importance of making ethical choices. Integrity is about doing the right thing, even when no one is watching or when there is an opportunity to take advantage without immediate consequences. It's about adhering to a set of moral principles and not allowing greed or opportunity to sway one's actions.
Here are several reasons why integrity is important:
Trust: Integrity builds trust. In relationships, whether personal, professional, or public, trust is foundational. When people know you are a person of integrity, they feel more comfortable relying on you, confiding in you, and collaborating with you.

Reputation: Your reputation is built on your actions and behavior over time. Consistently demonstrating integrity earns you a reputation for reliability and honesty, which can open doors to opportunities and foster better relationships.

Self-Respect: Acting with integrity means that you can hold your head high and feel proud of your actions, which is essential for self-respect. Knowing you've done the right thing, regardless of who knows about it, contributes to a sense of self-worth.

Societal Stability: Integrity is a key component of a stable and functioning society. It underpins laws and regulations and is essential for maintaining order and justice. A society where individuals act with integrity is one where people can feel safe and secure.

Role Modeling: People with integrity often become role models and leaders, setting positive examples for others to follow. This is particularly important for the younger generation, as they learn from observing the behaviors of adults around them.

Conflict Avoidance: Many conflicts arise from misunderstandings or deliberate misconduct. Acting with integrity avoids such conflicts and can lead to more peaceful and productive interactions.

Long-Term Success: While dishonesty and cutting corners might bring short-term gains, long-term success is built on a foundation of integrity. Businesses, relationships, and personal achievements that are rooted in integrity tend to be more sustainable and rewarding.

Inner Peace: Living a life of integrity aligns your actions with your values, leading to inner peace. This congruence reduces stress and anxiety because you are not trying to keep up with lies or deceitful behavior.
Integrity is a key personal attribute that has far-reaching implications in every aspect of life. It's about being true to oneself and maintaining a consistent pattern of ethical behavior that fosters trust, respect, and a harmonious society.