Movies
January 15, 2019 | No Comments » | Topics: Movies |
Forrest Gump. In the beginning young Jenny prays she can become a bird and fly away. Years later when she does get away and becomes severely addicted to drugs she contemplates suicide. The song playing in this scene is "Free Bird" by Lynyrd Skynyrd
December 25, 2018 | No Comments » | Topics: Movies |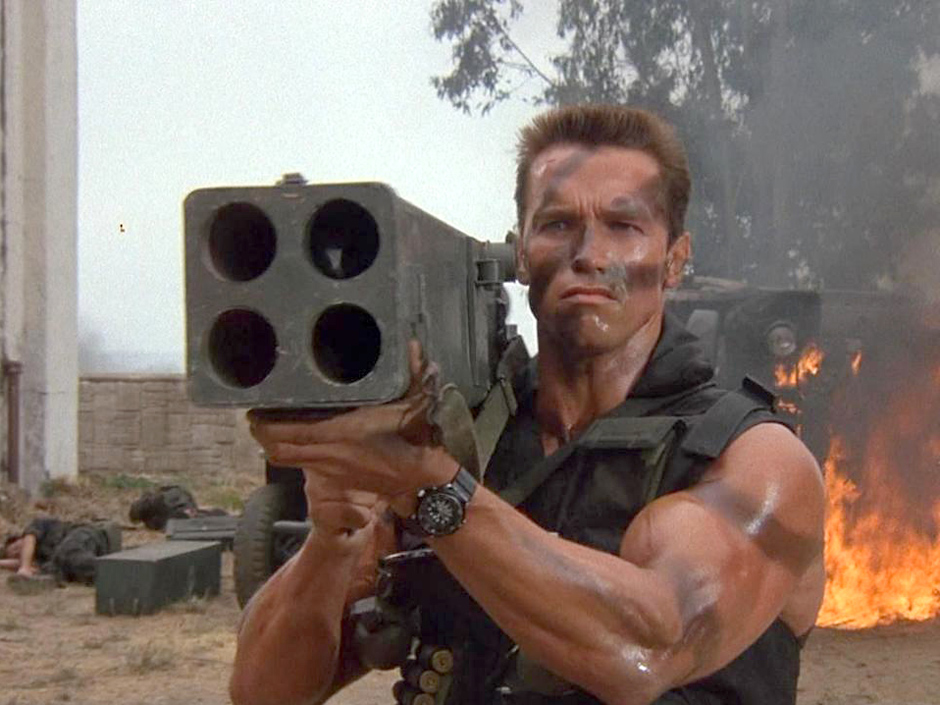 I just want to wish everyone a Merry Christmas! Hopefully everyone has the chance to be with their friends, families and loved ones this season. And while every household else is watching fucking Miracle on 34th Street, I like to continue the tradition of presenting Commando. A movie which undoubtedly puts me in the Christmas spirit. Enjoy!
March 8, 2018 | No Comments » | Topics: Movies |
In Terminator 2, before confronting the SWAT Team, the Terminator puts his grenade bandolier behind his back. Because if bullets hit the grenades they'd explode and destroy him
October 16, 2017 | 3 Comments » | Topics: Movies |
by Jimmy Breck-McKye
It's a well-worn idea that Predator is a film about masculinity. You have seven men each competing for alpha status, showboating their strength, stoicism, roughness and physical power. I'd like to go a step further. I'd like to suggest that the trials of the film are a test of masculinity, and that each man who dies does so in a way that mocks his masculine performance.
Let's go through the kills in order.
October 2, 2017 | 1 Comment » | Topics: Movies |
Here's a compilation of the 10 best fight scenes that we have seen a hundred times over, yet still captivates us each and every time we watch it.
Kiss Of The Dragon – Final Fight
July 5, 2017 | No Comments » | Topics: Movies |
Inglourious Basterds: Hans Lander subtly checking the girl's pulse at the start
In The Shawshank Redemption, Red calls Andy's dream of going to Zihuatanejo "a shitty pipe dream." 
June 13, 2017 | 1 Comment » | Topics: Movies |
June 8, 2017 | No Comments » | Topics: Movies |
Total Recall – Human Shield
March 14, 2017 | 2 Comments » | Topics: Art, Movies |
It's hard to imagine what the Alien movies would look like without the singular vision of Swiss artist H.R. Giger. But before Giger was hired on to design the film's monsters and worlds in the image of his own Freudian, biomechanical nightmares, Alien director Ridley Scott and screenwriter Dan O'Bannon were struggling to imagine what their extraterrestrial horrorshow would actually look like
In July of 1977, Swiss artist H. R. Giger received an unexpected call from Dan O'Bannon, a Hollywood screenwriter who was very keen for Giger to help bring his latest screenplay, Alien, to life by way of some concept art. Days later, O'Bannon explained further in a letter that contained this list of things to be designed—a temple, the egg, the Facehugger, the Chestbiurster, and the "terrifically dangerous" Alien itself. As we now know, Giger took the commission on and became a vital member of the crew. Three years later, he and his team won an Academy Award for Best Achievement for Visual Effects for their incredible work.
January 30, 2017 | No Comments » | Topics: Movies |