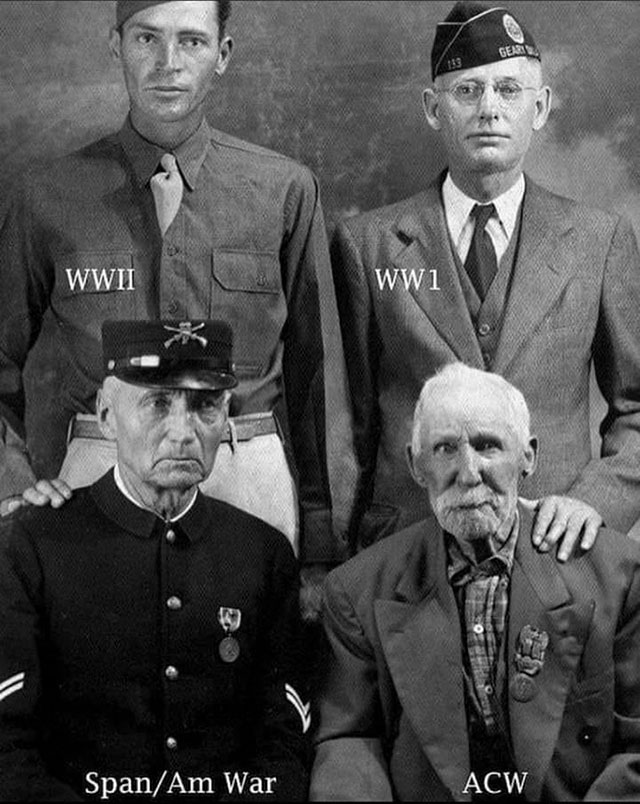 4 people from the same town who fought in different wars.
The eyes of four men, captured in a single photograph, tell a story of approximately 80 years of warfare. The horrors they witnessed and the experiences they shared are reflected in their eyes, growing more profound as they aged. Each of these men went to war, yet their experiences spanned completely different types of warfare.
The Veterans
Pearl Perry "Jack" Johnson (1923-1997): Born in Davis, Oklahoma, Johnson was a World War Two veteran. He registered for the draft in June 1942 and became part of a generation that fought across multiple fronts.

Hilyeard H "Red" Young (1895-1965): A native of Texas, Young was a World War One veteran. He owned a barber shop in 1940, having returned from a war that introduced new forms of combat and technology.

Andrew Jackson Everist, Sr. (1849-1945): Born in Iowa, Everist served in the Illinois 57th Regiment for the Union at the age of 15-16 during the American Civil War. He wore the Gettysburg 75th Reunion Veteran's Medal, a symbol of a war that divided the nation.

Oscar P Ruth (1872-1961): Born in Illinois, Ruth was a Spanish-American War veteran. A self-employed electrician in 1940, he was part of a conflict that marked a turning point in American foreign policy.
The original photograph is preserved in the Kent Ruth Collection by the Oklahoma Historical Society and is accessible through The Gateway to Oklahoma History.
The Wars They Fought
The American Civil War (1861-1865): A brutal conflict between the northern Union states and the southern Confederate States, sparked mainly by the controversy over slavery.

The Spanish–American War: A brief but decisive conflict, characterized by swift American victories against Spain. The U.S. Navy's preparedness played a crucial role in the triumph.

World War I: Following America's entry into the war in April 1917, the American Expeditionary Force engaged in 13 official military campaigns on the Western Front under General John J. Pershing.

World War Two: With over 16 million Americans serving and more than 400,000 killed, this global conflict saw U.S. forces tested in North Africa, Italy, and France. The main invasion of France, under General Dwight D. Eisenhower, was a pivotal moment in the war.