Picture Of The Day
February 28, 2020 | No Comments » | Topics: Picture Of The Day |
A minimalist drawing that represents closeness over time
February 27, 2020 | No Comments » | Topics: Picture Of The Day |
Four Penny Coffin in England, 1900
The shelter was named the "four penny coffin" because its sleeping quarters consisted of rows of coffin-shaped beds where homeless people could spend the night for a sum of four pennies. The four penny coffin was popular because it was cheaper than several small shelters that existed at the time, and its clients praised it because the Salvation Army allowed them to actually lie down and sleep on their backs.
February 26, 2020 | No Comments » | Topics: Picture Of The Day |
Anthony Crolla's urine sample after a 12 round fight against Daud Yordan
February 25, 2020 | No Comments » | Topics: Picture Of The Day |
During the Great Depression Al Capone started one of the first soup kitchens, called "Free Soup Coffee & Doughnuts for the Unemployed." Capone's soup kitchen served breakfast, lunch and dinner to an average of 2,200 Chicagoans every day
Inside the soup kitchen, smiling women in white aprons served up coffee and sweet rolls for breakfast, soup and bread for lunch and soup, coffee and bread for dinner. No second helpings were denied. No questions were asked, and no one was asked to prove their need.
The soup kitchen added to Capone's Robin Hood reputation with a segment of Americans who saw him as a hero for the common man. They pointed to the newspaper reports of the handouts he gave to widows and orphans. When the government deprived them of beer and alcohol during Prohibition, Capone delivered it to them. When the government failed to feed them in their desperate days, the crime boss gave them food. For anyone who felt conflicted about taking charity from a gangster, hunger trumped principles.
February 24, 2020 | No Comments » | Topics: Picture Of The Day |
The moment Brian Banks is exonerated after 6 years of prison after his alleged rape victim admits it never happened
In 2002, his Junior year, high school football star Brian Banks verbally committed to USC. After being falsely accused of rape by classmate Wanetta Gibson, he spent close to six years imprisoned and five years on parole, and had his conviction overturned in 2012 after his accuser confessed that she had fabricated the entire story.
When faced with the responsibility to prosecute the accuser for false accusations of rape, the female prosecutor decided not to, citing that "it would discourage future victims from coming forward."
February 21, 2020 | No Comments » | Topics: Picture Of The Day |

U.S. Medal of Honor recipient Herbert K. Pililaʻau was found surrounded by 40 dead Korean soldiers and him holding a trench knife

Herbert Kailieha Pililaʻau (October 10, 1928 – September 17, 1951) was a United States Army soldier and a recipient of the United States military's highest decoration, the Medal of Honor, for his actions in the Korean War. A Native Hawaiian who was born and raised on the island of Oʻahu, he was drafted into the military as a young man. Sent to Korea in early 1951, he participated as an automatic rifleman in the Battle of Bloody Ridge. During the subsequent Battle of Heartbreak Ridge, he voluntarily stayed behind to cover his unit's withdrawal in the face of an intense attack by North Korean forces. Alone, he held off the assault using his automatic rifle and hand grenades and, after exhausting all available ammunition, engaged the attackers in hand to hand combat until being overrun and killed. For these actions, he was posthumously awarded the Medal of Honor.
February 20, 2020 | No Comments » | Topics: Picture Of The Day |
A Violinist Play While Surgeons Remove Tumour From Her Brain
A member of the Isle of Wight Symphony Orchestra underwent surgery to remove a potentially fatal brain tumor. To ensure that the musician didn't lose vital motor functions, she played the violin while the tumor was cut out. See the unbelievable video:
February 19, 2020 | No Comments » | Topics: Picture Of The Day |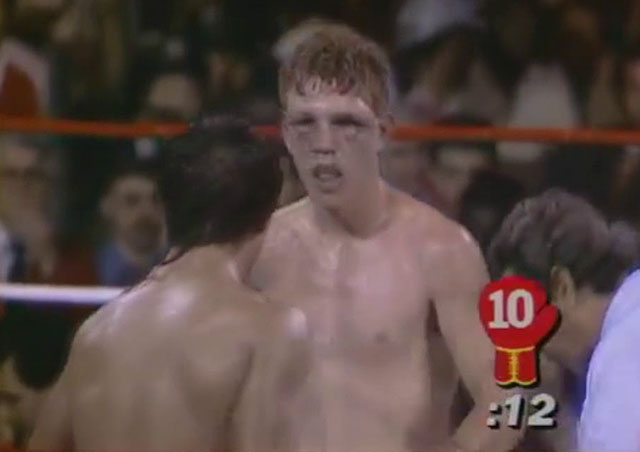 The Most Sinister Boxing Match Of All Time
Undefeated Billy Collins Jr. (14-0, 11 KO) was a junior middleweight (154 lb.) prospect on his way up. Luis Resto (20-8-2, 8 KO) was a light-punching journeyman.
Resto beat Collins' eyes shut and his skin purple and blue. Collins suffered a torn iris and his vision was forever blurred. Collins could no longer fight. Collins' father and trainer Collins Sr. went up to shake Resto's hand out of sportsmanship, only to be overcome with rage at how thin Resto's glove was. He demanded the gloves be impounded. Resto's padding had been removed, and Resto himself admitted years later that his handwraps had been soaked in plaster of Paris, a substance that hardens into plaster casts.
Collins began drinking and became violent without boxing in his life. He would later drive his car into a cement wall in 1984, ending his life at age 22. Resto and his trainer, Panama Lewis, were banned for life from the sport. Resto served 2 1/2 years in prison for assault, while boxing suffered a tragedy that shows just how dangerous cheating can be in this sport.
February 18, 2020 | No Comments » | Topics: Picture Of The Day |
Bagpipers were usually the first ones out of the trenches when it was time to fight; playing as they lead the soldiers into each battle 1910s
Yes they were targets. Pre world war 1, most european armies had soldiers that were musician in their regiments. In British armies they were called the drums, and in Scottish/Highland regiments, the pipes.
They were led under an appointed major either named the pipe or drum major. They would consist of snare and base drums, fifes, pipes, and bugles if they were in the infantry or cavalry, and trumpets if in the artillery.
These soldiers were used in battle primarily for communicating orders to sub units, as they were incredibly loud, but also used as a moral boost for soldiers.
February 17, 2020 | No Comments » | Topics: Picture Of The Day |
In Japan 50% of men give all their money to their wives and get a monthly allowance
In Japan, there's the salary you get from your company. And if you are a married man, there's the salary you get from your wife. It's called "okozukai", which is sometimes translated as "pocket money". Think of it as a husband salary.
Traditionally, Japanese women control a family's finances. Even if the wife works, she still is supposed to manage the household's money.
Japanese law does not allow joint or family accounts (only individual accounts!); so when it's said that the wife controls the money, that's exactly what it means.
The average okozukai last year was 39,600 (US$396). That includes the husband's cell phone bill, which in Japan is usually a little over a hundred bucks. It also includes other things, such as eating out and booze or cigarettes for those who drink and smoke. What's more, if you are into video games, music, or books, well, that comes from your husband salary, too. Want a new game? Use your allowance. Want a haircut? Well, take it out of your pocket money. Need new clothes? Use your okozukai.