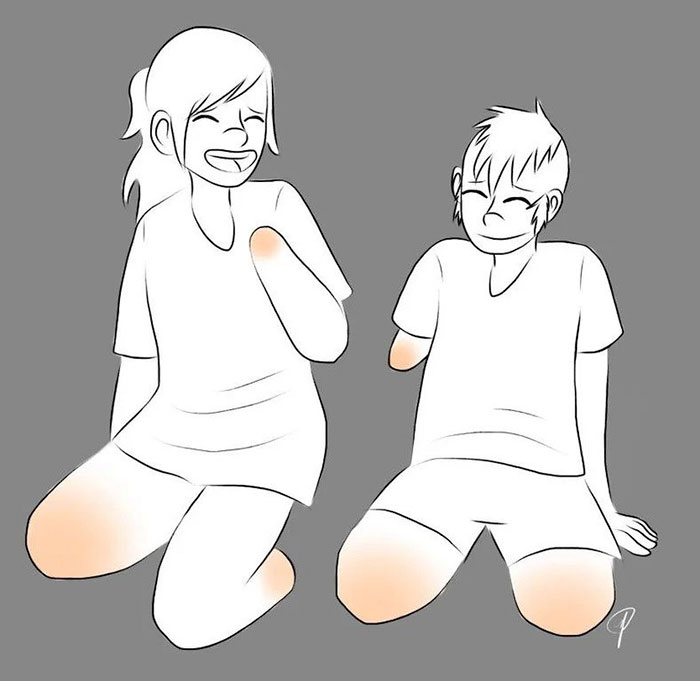 1. I want my left foot gone. There's a distinct line where I feel the stump should end. My foot feels like it's supposed to be there, but at the same time it's not. My foot, ankle or the lower half of my shin will tingle or hurt sometimes. Every day, I wake up and think: "Damn it, my foot is still attached to my body".
Whenever I sit down, I cross my left leg over my right so my left foot falls asleep. I take showers on one leg. When I'm home alone, I hop around in my room on my right leg, and I go up or down the stairs pretending that I'm an amputee (using my left knee instead of my. I want to buy crutches to really experience what it's like to get around on one leg, but I will have to plan out when they're delivered because the people I live with have no idea I have BIID and I want to keep it that way.
Learning to surf is very high on my bucket list, and I fear I won't be able to do that anymore if I get my foot amputated. Furthermore, I'm terrified someone will find out about my BIID.
2. I want my legs gone. I want to be happy with my body. I've been thinking about cutting them off myself for the past few days, it's all I can think about. I don't know how much longer I can stand having them attached to me, it's torture. I've tried everything I can think of to make them stop bothering me but nothing has helped, not even a little bit. With this and everything else I've been trying to deal with in my life I've become so fucking tired. I just want a break.
3. I want to be a paraplegic, but it's not enough for me to be unable to walk or move my legs, they also have to look obviously and undeniably useless, paralyzed, and atrophied to anybody that looks at them, with no muscle remaining, just thin legs with skin and bone for me to be satisfied.
I would like to be a t12 or l1 complete, but without losing control of my bowel, bladder, or sexual function which complicates things. I guess the best thing that could happen is to cut off the connection of the nerves branching out of the spinal cord to my legs without injuring the spinal cord itself.
As for wheelchairs I would like to use a manual wheelchair, I want to strengthen my upper body should I become paralyzed and want to remain independent and athletic. Despite what the haters may belive I don't want to be pitied and be seen as sombody helpless, fragile and needing extra attention, actually I would want people to treat my paraplegia as an immutable part of myself like my hair or eye color and move on.
4. Basically this started a year ago i really wanted to have an electric wheelchair and not have any function in my legs whatsoever. I have always price chairs up and have thought that i will buy a compact folding one when i move out of my parents house so i can cope with the disorder. It has been very hard recently since all i can think about is my body and how i want to be in a wheelchair. I will never use it in public nor will i tell anybody about it because they will either get mad at me or worse laugh at me.
I don't know what to do and i have had various thoughts on how can i make myself a paraplegic (does not sound like a good idea)
I have always had thoughts on having a holiday at center parcs a huge forest full of log cabins and some of them you guessed it a wheelchair accessible. Just the thought of using a wheelchair to explore a forest warms my heart (sounds weird doesn't it)
I am deeply sorry to say this and most likely offend other paraplegics but i have had no choice it is getting harder living like normal me.
I have had this urge for ages and it has dramatically impacted my life.
5. The 72nd World Health Assembly has just decided in Geneva, Switzerland, about the new ICD-11, the 11th version of the "International Classification of Diseases and Related Health Problems".
This means that BID – Body Incongruity Dysphoria – is now officially part of the statistics of the WHO and will be included in many national health system statistics and funding mechanisms.
There's some hope for legal treatment in a few years. It seems like a good news for us in suffering!
6. I have always wanted to be an athletic low level para and by training alot (for at least 6 years) I have pretty much achieved my biid self image. I have a custom rigid frame chair that's fits like a shoe. I can get around very quick and can transfer with ease. I exercise a lot ( upper body) and have large para arms and shoulders. Even though I am not "out" I have noticed a marked decrease in leg muscle even though I still walk a fair bit day to day. I have noticed that I can't really run at all anymore even though I can go for miles and up steep inclines with ease in my chair….. I have even had someone approach me about motivational speaking as a person with a disability lol…. (I politely declined! ). I pass as disabled now and have even had women strike up conversations with me when out in public which never happened before when able bodied. I kinda wish I would just have an accident so I could be out and everyone would just have to deal with it… But I don't really want a Sci and would never self harm… It would just be good to have a legit reason…….i guess several years of sustained full time chair use with no walking or weight bearing would render me unable to walk… Which is fine by me. Now I don't think I need to be fully paralysed. I'd be happy being crutching low para who uses a chair.. I wod love to be able to hit the gym as a chair user more often! Getting a chair was one of the best things I did!
7. It needs to be done. I don't know how to deal with the stress. This'll hurt so much but I know it'll be worth it if I do it right.
I just want to feel like myself. I wanna feel beautiful. I need this surgery. I've tried dry ice before, and it didn't work. I spent a month and a half in the hospital stuck with psychiatrists that didn't want to bother trying to understand me. This has to be done right or I'll spend even longer in the hospital seeing as I lied my way out.
I'm so stressed out. I'm going to smash my leg to smithereens with a rock, a sledgehammer, a hatchet and a knife while wearing a tourniquet. I just don't know how to cope with the stress of it all.
8. Earlier this year I came out to a psychologist friend a week before going with a surgeon to talk about BIID and the possibility of surgery. She understood and supports me.
On July I bought a wheelchair to deal with my BIID -I want to be a double above knee- and I friend from out of town wanted to stay at my house. I told him my story. He is actually my best friend and thanked my for trusting in him. I have his support too.
I few weeks later I decided to come out to another close friend. Acceptance too.
And then to another friend who lives close at home and whom I spend lots of time. Acceptance and support (kind of). I asked him if he would lend me money (he has some) for surgery, he said he wouldn't for that lol.
It has been a good year in terms of coming out of this closet and now I'm working on finding a surgeon willing to amputate. I know it will be hard, but I'm hopeful. If anyone has a lead, please share.
9. Becoming an amputee is the best thing I ever did Sure, it was painful. I also risked dying while trying to get my body to how it should be… It still hurts in many ways, 4 months after going for it… I'm really physically disabled now. Lots of fun new challenges, some frustration obviously, some things are much harder, other things might be impossible now… But in the end, I really love my new body. Few mins ago I brought my knee to my chest and hugged my stump. I pressed my face against it… I even kisses the scar. I grabbed it with both my hands and squeezed it a bit. Feels so nice, it's soft and squishy… I love feeling the flat ending to my tibia, cupping the bone. I love how it's comfortable in any position in my bed when I try to fall asleep, no stupid dysphoria inducing foot.
I love my new life as an amputee. It's my dream come true. It's really nice having a stump. I feel beautiful.
I wish all of my peers here find a way and make your dream into reality. I believe in you, and I know you will love your stump/s. Especially I want to wish good luck to those of you aiming for DAK (double above-knee amputee). Seeing someone with 2 fat stumps emerging from their pelvis, without knees, just 2 thighs that were cut mid femur… One of the most beautiful things in the world. I wish you brave souls lots of luck, hope to read soon of how much you enjoy your new lives with no feet or knees, forever wheelchair bound. I know you can do it and i yearn to see your beautiful results in the near future.
10. I did it. I became a bilateral below knee amputee in 2018. I used dry ice. It is absolutely wonderful. I love having prosthetic legs. It's by far the best thing I have ever done!