May 17, 2019 | No Comments » | Topics: Funny Pictures |
Trying to get a drink at a busy bar
May 17, 2019 | No Comments » | Topics: Funny Pictures |
May 16, 2019 | No Comments » | Topics: main |
Hey guys, sorry about the redirect, I think the site was hacked. We are working to get it fixed now
May 16, 2019 | No Comments » | Topics: Mixed Race |
May 15, 2019 | No Comments » | Topics: Links |
Two entrepreneurs showed us dollar by dollar how they turned $39,200 in personal savings into a $17 million business – Fast Co
PICS: Thai Farmer Worked His Whole Life So His Son Could Go To College – Ned Hardy
Attention all serious Fortnite and COD players, this controller mod will give you a serious advantage over everybody that's not using one – Amazon
The hottest photos of the day – Caveman Afterdark
The No-Bullshit Way To Find "The One" – Mark Manson
Alabama just passed a near-total abortion ban with no exceptions for rape or incest – CBS
Tiger Woods sued for wrongful death after his restaurant employee allegedly drinks at work, dies in crash – Fox News
Here's Why Airplane Boarding Got So Ridiculous – Intelligencer
Adobe Tells Users They Can Get Sued for Using Old Versions of Photoshop – "You are no longer licensed to use the software" – VICE
Inside Megan Anderson's 25-pound weight cut – ESPN
San Francisco bans facial recognition technology – NY Times
A commonly overlooked device you should keep in your car in case of an emergency – Amazon
We Are Nowhere Close to the Limits of Athletic Performance – Nautilus
The 10 Best TV Shows Ever, According To IMDb Ratings – Digg
The World's Oldest Porsche Could Fetch $20 Million at Auction – Maxim
Medieval Peasants Worked Less And Vacationed More Than Modern Americans Do – All Thats Interesting
This girl is damn near perfect (nsfw) – Leenks
Cherry Healey leaked photos – Phun
Multimillion-Dollar 1985 Ferrari 288 GTO Stolen From Owner During Test Drive Gone Wrong – The Drive
Drunk Woman Passionately Makes Out with Streetlight and Other Videos of the Day – Drunken Stepfather
Fastest High Schooler In The Country Completes A Crazy Comeback In Final Leg Of 4×400 Relay – FloTrack
College girl strips in class to protest professor – Trending Views
I charged $18,000 for a Static HTML Page – Idiallo
Brett Michaels' Daughter Was in SI Swimsuit Edition Too – G-Celeb
His Wife is Pregnant After An Affair & Wants Him to Pretend to Be the Dad – Brass Pills
The Ten Greatest Twilight Zone Episodes – Gunaxin
So, Nina Agdal Showed Her Smooth Amazing Ass On Instagram – Egotastic
21 Cats On Their Worst Behavior – Pawsome
Why Your Friends Hate Their Relationship (And Why You Don't Have To) – Nick Notas
May 15, 2019 | No Comments » | Topics: Products |
May 15, 2019 | No Comments » | Topics: The Dumping Grounds |
May 15, 2019 | No Comments » | Topics: TRUTH |
Man saying goodbye to his dog before she was put to sleep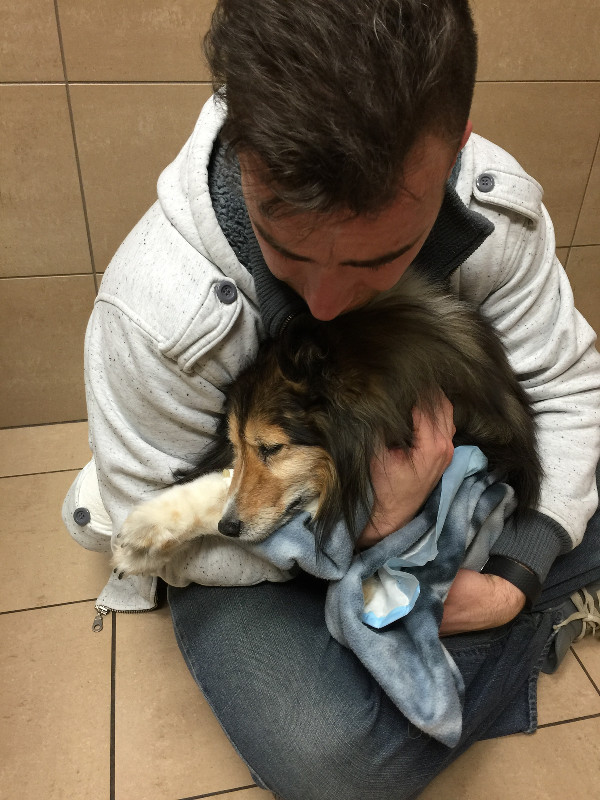 May 15, 2019 | No Comments » | Topics: Answers, Interesting |

What's it like to have an extremely high IQ?
Years ago, aged eighteen, I joined MENSA. I left after a year, having seen ample evidence to support the old description of MENSA as "The society for people impressed by their own intelligence". In truth, the whole organisation was creepy. Anyway, when I applied they sent me an IQ test which you sent in to be scored. If you scored highly enough they asked you to attend a monitored exam. I scored 158 on the test at home and 159 when I went to London to be tested.
I have never encountered anything, either at school, university or at work that has been intellectually difficult for me. I got an English degree and a law degree and barely worked to get either. My memory has always served me well. I quickly see patterns that others don't seem to notice (that's your IQ test sewn up right there) and just find concepts come easier to me than to a lot of other people. I do get bored with most subjects quite quickly but, so far, so good.
May 15, 2019 | No Comments » | Topics: Life Advice, Man-Up |
(photo: @isaacdavis)
Not getting enough sleep impacts your ability to focus. It makes it harder to stay on task and come up with new ideas. It also affects your ability to make decisions. Like, you know when there's something that you need to do, but you keep deciding to watch Netflix instead? Getting enough sleep can help with that.
If you get enough sleep, your work will be better, your focus will be better, and you'll have more willpower. All of this stuff leads to better self-discipline.
I've seen this in myself as well. Whenever I don't get enough sleep, my entire day goes to shit. I get lazy. I can't stay focused on anything I'm doing. Instead of doing all the things that I had planned to do, it becomes much easier to sit around on reddit all day. If I manage to do something productive, it's usually half-assed, and I hate doing it.