April 24, 2014 | No Comments » | Topics: main |
21 women who immediately regretted their tramp stamps – Guyism
Your damn awesome pics and videos of the day – Ned Hardy
We are doing awesome things on Twitter!
The M-1 Abrams tank can do damage in many ways (Video) – The Brigade
Jeanette McCurdy side profile pics are interesting – Drunken Stepfather
Plastic surgery in South Korea is so good people need new ID to prove who they are – Metro
The Sad Truths Behind the L.A. Party Scene That Took Down Bryan Singer – Defamer
6 Shockingly Childish Abuses of Power by Airport Employee – Linkiest
Oh shieeet! Aubrey Plaza pleasuring herself – Celeb Jihad
Oldie but goodie, Kate Upton in Sports Illutrated – Leenks
The Truth Hurts Soooo Good! – Bro My God
The Hottest Inked Girls You Will See Today – Double Viking
Mel B's epic wedgie pick – Celeb Slam
Words To Live By (20 Photos) – World Wide Interweb
4 Minutes Of Animation Guaranteed To Put Your Life In Perspective – Upworthy
Murder suspect wants jury to ignore 'murder' neck tattoo – New York Post
The Blue Devil in Miss Belle Knox: Meet Duke Porn Star Miriam Weeks – Rolling Stone
This NYPD Idea Backfired Horribly On Twitter – Radass
This might be the hottest Emma Watson video ever created – Guyism
Friends Of Caveman Circus
April 24, 2014 | No Comments » | Topics: The Dumping Grounds |
April 24, 2014 | 8 Comments » | Topics: Life, TRUTH |
by bobsmithhome
I am an early retiree. I have been living that life for some time. Many years ago (before it became popular) my wife and I chose to live significantly below our means so we could achieved financial independence. I am now living what you are planning, so I think I can provide more of a sense of the big picture.
Here's the piece you (and a few others in this thread) seem to be missing… Living below your means isn't about postponing gratification. In other words, it's not about giving up products and experiences when you're young so you can have them when you're old. That's not it at all.
What it's really about is freedom. Most people are, in many ways, slaves. I was a slave. Beginning at age five I was forced to get up in the morning and go somewhere I didn't really want to go, and do things I didn't really want to do. Elementary school. Then high school. Then college. Then work. And throughout all those years there was an undertone of fear. Fear that you'll get in trouble with Mom and Dad if your grades suck. Fear that your performance in college won't result in a decent job. Fear that you'll lose your job, and that your family will suffer, if you don't kiss up to the right people, or meet your quotas, or because some asshole above you decides to eliminate your job… always that nagging worry and fear in the background.
April 24, 2014 | 10 Comments » | Topics: Best Of, TRUTH |
A black Union soldier sits, posted in front of a slave auction house on Whitehall Street in Atlanta, Georgia, in 1864
April 24, 2014 | 2 Comments » | Topics: Interesting |
Country: China
Contents: A fish, scrambled egg with tomato sauce, rice, spinach, cauliflower, and soup
Country: Buchach, Ukraine
Contents: Soup, macaroni, pickle, bread, sliced hot dog
April 24, 2014 | No Comments » | Topics: Interesting |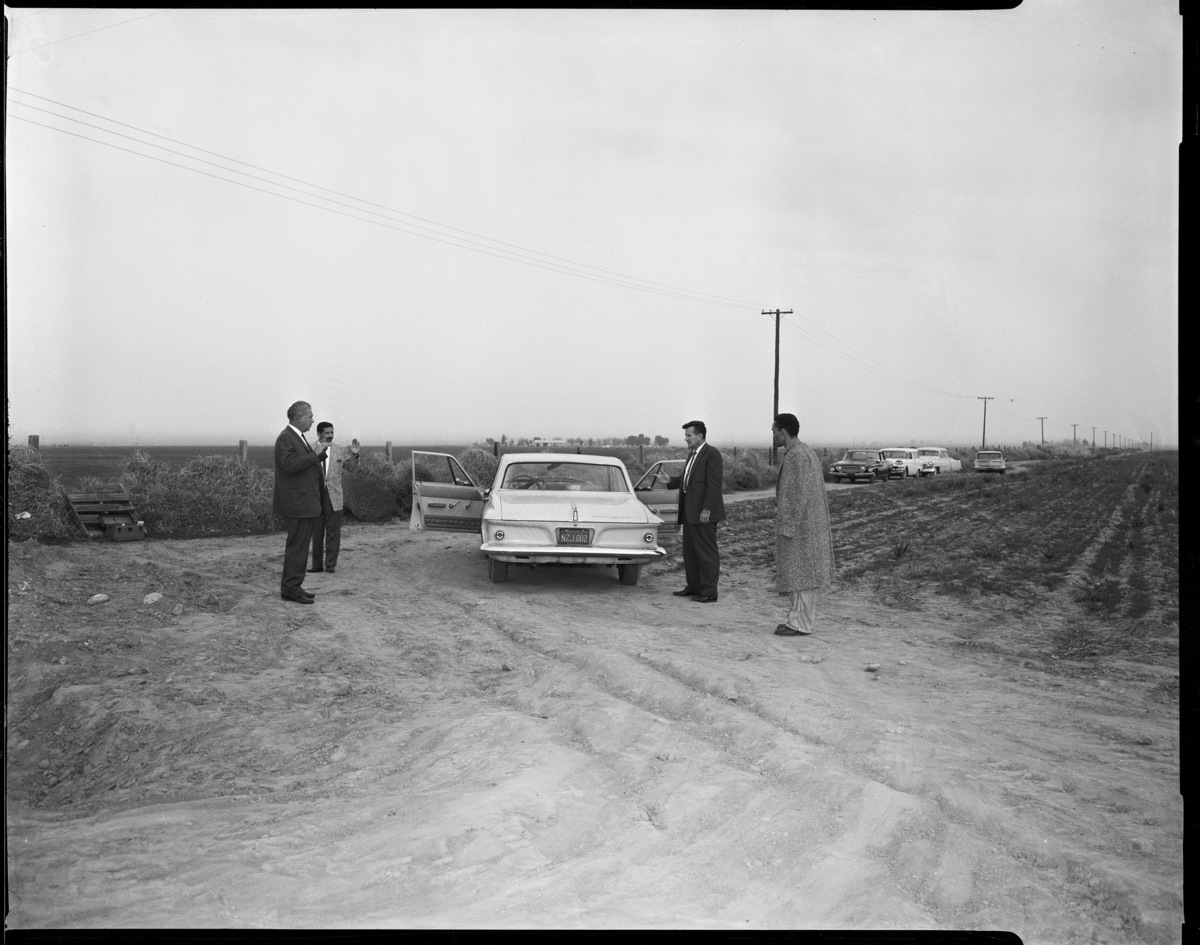 Back in 2001, photographer Merrick Morton—who also happens to be a reserve LAPD officer—came upon a massive archive of Los Angeles Police Department crime scene and evidence photos which had been hidden for decades in a huge storage facility in downtown LA. The photos were buried among 150 years of police records in cardboard boxes.
When it was discovered that some of the boxes contained decomposing cellulose nitrate negatives, a serious fire hazard, the Fire Department recommended that all the negatives be destroyed. The team lobbied for the archive to be only selectively destroyed and their efforts paid off; some boxes of images were determined to be unsalvageable and destroyed, while the remaining images were sent to a cold storage facility where they reside today.
Around one million photos have been unearthed so far and choice selections, presented by Fototeka, will be exhibited at Paramount Pictures Studios from April 25-27 in Los Angeles.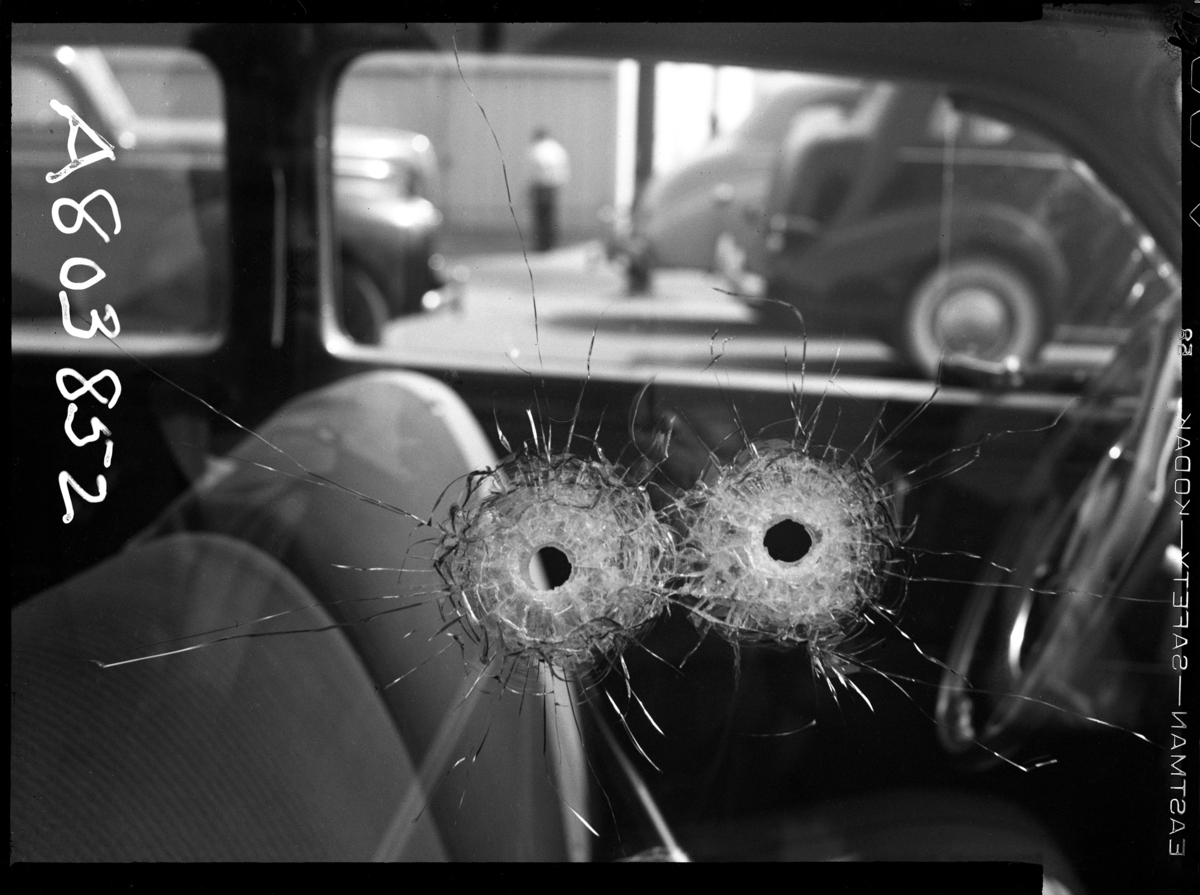 Detail of two bullet holes in car window Date: 10/10/1942
April 24, 2014 | 1 Comment » | Topics: TRUTH |
1. Of course I look familiar. I was here just last week cleaning your carpets, painting your shutters, or delivering your new refrigerator.
2. Hey, thanks for letting me use the bathroom when I was working in your yard last week. While I was in there, I unlatched the back window to make my return a little easier.
3. Love those flowers. That tells me you have taste… and taste means there are nice things inside. Those yard toys your kids leave out always make me wonder what type of gaming system they have.
4. Yes, I really do look for newspapers piled up on the driveway. And I might leave a pizza flyer in your front door to see how long it takes you to remove it..
5. If it snows while you're out of town, get a neighbor to create car and foot tracks into the house. Virgin drifts in the driveway are a dead giveaway.
6. If decorative glass is part of your front entrance, don't let your alarm company install the control pad where I can see if it's set. That makes it too easy.
7. A good security company alarms the window over the sink. And the windows on the second floor, which often access the master bedroom – and your jewelry. It's not a bad idea to put motion detectors up there too.
8. It's raining, you're fumbling with your umbrella, and you forget to lock your door – understandable. But understand this: I don't take a day off because of bad weather.
9. I always knock first. If you answer, I'll ask for directions somewhere or offer to clean your gutters. (Don't take me up on it.)
April 24, 2014 | 3 Comments » | Topics: Babes |