February 11, 2019 | No Comments » | Topics: FAIL |
Pieces of shit
February 11, 2019 | No Comments » | Topics: Man-Up |
(photo: @anniespratt)
Practice choosing discomfort.
Our choice is between doing an uncomfortable thing now or having greater discomfort thrust upon us later. Because we procrastinators suck at choosing the lesser discomfort now, we effectively are choosing greater discomfort at times that are out of our control.
Making that choice is a skill. It has to be practiced to be developed. You can't just start doing it easily today just like you can't just start doing anything that requires skill.
A month of cold showers is an excellent way to get practice at choosing discomfort, btw. It's easy to do. You're (presumably) going to be taking showers anyway, so it's just a miniscule modification to your daily activities.
All it takes is a single moment of strength to put yourself into the water. It's one big rep for your discipline muscle every day.
To get the most out of it, focus on the negative feelings you experience while making the choice to get into the cold shower. Those feelings that are crying for you to avoid the discomfort are the same feelings that keep you from doing your work when you should. Those feelings are your enemy, and to defeat them you must be conscious of them. Feel them, observe them, hold them in place, and eventually you can control them.
February 11, 2019 | No Comments » | Topics: Compilation |
February 11, 2019 | No Comments » | Topics: Motivation |
February 8, 2019 | No Comments » | Topics: main |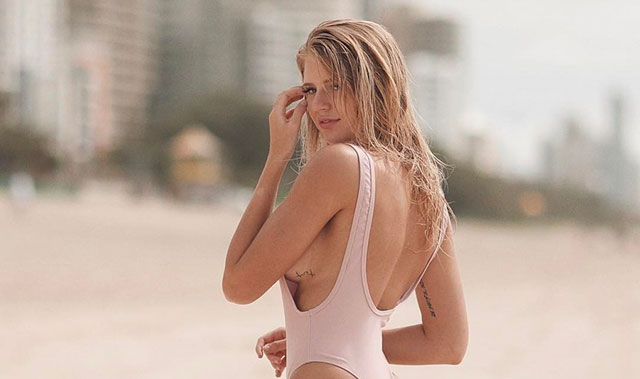 A damn fine collection of side bewbs – Leenks
Bill Cosby moved to general population unit, pretends to be Cliff Huxtable in interactions with inmates – COS
The Best Sex Toy For Men, Ever – Amazon
The Hottest Photos Of The Day – Caveman Afterdark
Liberals and Conservatives React in Wildly Different Ways to Repulsive Pictures – The Atlantic
Reflecting on My Failure to Build a Billion-Dollar Company – Medium
I Cut the 'Big Five' Tech Giants From My Life. It Was Hell – Gizmodo
The Tinder algorithm, explained – VOX
The Real-Life Diet of Aleksei Goloborodko, the Most Flexible Man in the World – GQ
Inmate's Attempt To Escape Through Ceiling Goes Exactly As You'd Expect – YouTube
Alison Brie Gets Ultra Leggy, And Cleavagy, And Damn Sexy – Popoholic
Dieter Rams' 10 Principles Of Good Design, Beautifully Illustrated With His Products – Vimeo
Curvy Ashley Graham Pretending to Exercise of the Day – Drunken Stepfather
This $1,000 Wireless Speaker Is Astonishing And Literally As Loud As A Live Rock Concert – Amazon
Quitting Zyrtec Is 'Total Hell': Users of the popular allergy drug can experience withdrawal symptoms – Medium
The New Generation of LA Rap Is Changing Everything – Noisey
Police Taser A Transgender Woman At A Restaurant! – Worldstar
Lebron picked mostly players whore are going to be free agents in All-Star draft – Sports Gossip
Amazon's Jeff Bezos says National Enquirer is blackmailing him with nude photos – CNET
5 Tips for Happy Long-Term Love from Positive Psychology – Curiosity
The Hottest Trends In Ultra-Luxury Real Estate – Maxim
Finland's universal basic income trial boosts happiness but not employment – Trust
Here's The 'Kind Of Crazy' Ritual Tom Brady's 'Good Witch' Wife Has Him Doing Before Games – Daily Wire
Dat Body: Ariadna Gutierrez Bikini Photos in Miami – G-Celeb
The Fifteen Greatest Years in Cinema History – Gunaxin
The Joys and Trials of Getting Pregnant as a Masculine-Identifying Person – Broadly
Vanessa Hudgens newd compilation (nsfw) – Celeb J
Reporter mistakes mountain lion for a dog – Trending Views
February 8, 2019 | No Comments » | Topics: Products |
Class Meets Comfort: These shoes are a classic and have never gone out of style
February 8, 2019 | No Comments » | Topics: Funny Pictures |
February 8, 2019 | No Comments » | Topics: Life |
February 8, 2019 | No Comments » | Topics: Life |
Arkansas Highway Police Corporal Roy Martin as he signs off with the help of his son, also a member of the force, for the last time after 31 years of service.
February 8, 2019 | No Comments » | Topics: Man-Up |
(photo: @withluke)
"If you want to live an exceptional and extraordinary life, you have to give up many of the things that are part of a normal one." -Srinivas Rao
The larger mob of society will never experience true success.
Why?
Because this majority is unwilling to become the CEO of their life — they'd rather someone else call the shots.
They are unwilling to take risks, to fail publicly, and be forced to try again after getting knocked down.
They are unwilling to sacrifice what is good for what is great.
In short, they are unwilling to give up their "normal" life.
But this is what is required to live an extraordinary life. You must give up the "normal" life for something far more valuable.
Evolving is painful.
The more you evolve into the best version of yourself, the more you'll be required to give up. You'll reach a point where you'll no longer be able to tolerate negative relationships. Eating bad food. Spending your time on time-wasting activities.
Giving these things up is painful. Most people aren't willing to do what needs to be done.